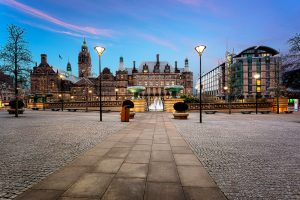 At SDL Auctions, we have helped facilitate sales for thousands of property buyers and sellers in Sheffield and the surrounding area. We regularly host property auctions in this region, as well as auctioning a diverse portfolio of property lots online too.
So whether you're looking to make your next investment, find your ideal home or quickly and efficiently sell a property you currently own, then we can certainly help you. We specialise in auctioning all kinds of property, from domestic and residential to commercial, mixed-use and even land. We can help you to secure the property you want or sell your property for an attractive price in Sheffield and the wider region around it.
We specialise in bringing a wide range of unique lots to our property auctions, with plenty of potential and great guide prices in Sheffield and South Yorkshire.

Sell property by auction in Sheffield
We see great sales success rates across the many property lots we sell by auction in the Sheffield area, both online and in our North West and Nottingham auctions which are just a short distance from Sheffield.
Our expert team is always available to help you to decide on realistic yet attractive guide and reserve prices, which means you can rest easy in the knowledge that your property will never sell for a penny less than the price you want it to.
When selling your property in Sheffield by auction, we strive to make the process as simple as possible for you. You will be appointed your own property auction advisor who will be happy to provide you with any advice or guidance you may require, whether this be in the lead up to the auction, during the auction itself, or in the weeks following the sale of your property to ensure it all goes as smoothly as possible.
Our auctioneers are equipped with the highest expertise in the field and always endeavour to achieve very good prices, but if for any reason your property does not sell on the day of the auction or by the deadline online, then we will continue to list it as an unsold lot on our website. This ensures your property receives further advertising to help it sell, and potential buyers can still make you an offer.
If your property achieves a successful unconditional auction sale then from the moment the hammer falls, the sale is agreed and is legally binding and you can rest assured that your property has been sold and at a price you are happy with. If your property sells with a conditional auction sale, then the completion period is slightly longer at around 40 business days.
To find out more about selling your property at auction in Sheffield and South Yorkshire, take a look at our comprehensive guide to selling at auction. This useful guide provides all the information you need to know when selling at auction, from how to list your property for auction, to how to effectively complete the sale.

Property Auctions in Sheffield
If you're looking to sell or buy properties in auction in Sheffield and South Yorkshire, then our closest room auctions are at Nottingham Racecourse or the AJ Bell Stadium in Manchester. We also advertise our properties online and in our catalogues or use our search system to find properties located in Sheffield or South Yorkshire.
SDL Auctions property auctions are regularly attended by hundreds of seasoned investors and new-to-auction buyers alike and we see many successful property sales take place in Sheffield.
North West – Around 1.5 hours drive
AJ Bell Stadium
1 Stadium Way
Salford
Manchester
M30 7EY
Nottingham – Around 1 hour drive
Nottingham Racecourse
Colwick Park
Nottingham
NG2 4BE
If you're looking to sell your Sheffield-based property at auction at one of our auctions, or online at SDLAuctions.co.uk, then please get in touch with us and a member of our team will be happy to provide you with all of the information required to begin the process. 

Buy property by auction in Sheffield
Our properties span across Sheffield, its surrounding areas and the whole of South Yorkshire, with a wide variety of diverse opportunities for property buyers to take advantage of both in our room auctions and online. So, whether you're looking for a DIY project, your ideal home, the next investment to add to your property portfolio, a commercial space to start a business or you're looking to become a first-time landlord, you're sure to find it with SDL Auctions,
Here are just some of the areas we have property listings in Sheffield: 
Park & Arbourthorne
Beauchief
Greenhill
Beighton
Birtley
Broomhill & Sharrowvale
Burngreave
City
Crookes & Crosspool
Darnall
Dore and Totley
East Ecclesfield
Ecclesall
Firth Park
Fulwood
Gleadless Valley
Graves Park
Hillsborough
Manor Castle
Mosborough
Nether Edge & Sharrow
Richmond
Shiregreen
Brightside
Southey
Stannington
Stocksbridge and Upper Don
Walkley
West Ecclesfield
Woodhouse
& more.
Take a look at the lots we have for sale in our upcoming auctions to find the ideal property for you. We have hundreds of lucrative property opportunities to make the most of, including both residential and commercial properties in a wide range of appealing areas.
To ensure you're fully informed before you make any bids, please be sure to prepare appropriately by taking the time to read all of the information provided in the auction catalogues, as well as the legal pack for each property you're interested in.
So if you want to secure a property in the Sheffield area, or you have any questions at all about the auction process or any of our lots we have for sale, then get in touch with us today and we'll be delighted to help with any support or guidance you need.

About Sheffield
Sheffield is a thriving city in the heart of South Yorkshire and is home to some great sights, bustling nightlife and plenty of rich culture. The city centre boasts plenty to see and do, while the surrounding countryside is part of the Peak District National Park, so whether you enjoy city life, being outdoorsy, or both, this is the ideal location for you.
The average property price in South Yorkshire is around £172,465, and in Sheffield specifically is around £199,972 (Zoopla – correct as of March 2020). So whether you're buying or selling, you're sure to get a great price for your property at auction.

Why choose SDL Auctions?
SDL Auctions is one of the largest property auctioneers in the UK and has hosted hundreds of auctions across the nation for many years. In 2018 alone, SDL Auctions achieved the successful sales of 2,100 lots, which raised over £210m for vendors.
Our aim is to bring property sales by auction into the mainstream and offer a strong alternative to the saturated private treaty market.
You may also know us as one of the trusted partners of the hit BBC show, Homes Under the Hammer, as we regularly feature on the programme, showcasing that auction is a smooth, efficient way to deal in property.
We facilitate the sales of thousands of different property types, from residential and domestic, to retail, industrial and commercial investment opportunities and even plots of land for sale. So, no matter where you are in the UK, or where you wish to sell or buy, we can guarantee that we have an auction suited to your needs.

Take a look at what some of our happy vendors and property buyers have to say about their experience with our auctions to understand why we're one of the nation's favourite property auctioneers.

"The service I received from all of the team was of the highest standard. Sam who I dealt with most often went far beyond what I would expect during what was not a simple sale. SDL [Auctions] have sold two properties for  me and I would not hesitate to sell again using their services. I have never bought at an auction before but am now very likely to consider doing so – they are professional, friendly and deliver results. I can not recommend them highly enough."
Judith – Nottingham auction vendor
Taken from Google Reviews

"Often auction houses can be a very bullish environment but this is not the case with SDL [Auctions]. As a buyer I have found the team very professional and supportive. I have purchased 2 properties so far and I have found the support and advice from Andy Thompson invaluable as buying from auction can be quite daunting. Andy has guided me every step of the way to what I believe are good investments. I would buy again through SDL [Auctions]."
Mashucul – North West auction attendee & successful bidder
Taken from Google Reviews
Get in touch with us today for more information on buying or selling property at auction in Sheffield.