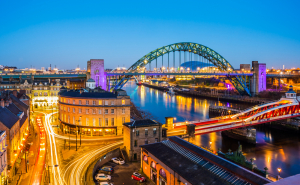 At SDL Auctions, we sell properties up and down the country, with five room auction locations across the UK. We've helped to facilitate the buying and selling of hundreds of properties in the North East at auction, both through our room auctions and online. We regularly auction new and exciting properties in this region, and there are plenty of amazing opportunities to be taken advantage of.
We always strive for quick, efficient sales, where both buyers and vendors achieve the best possible price they could hope for. We regularly have new, unique and diverse property opportunities in the North East brought to us, so we're sure that whether you're looking to buy or sell a home, land or commercial building, you'll find what you're looking for here at SDL Auctions.
Sell by auction in the North East
We've seen great auction success rates for this region over the years, at both room auctions and online. From Alnwick and Berwick-upon-Tweed to Middlesborough and Stockton-on-Tees and everywhere in between, when selling your North East-based property with us, you can be sure you won't achieve a lower price than expected, as you can agree a guide and reserve price before bidding begins with the auctioneer.
Once a successful bid has been made against your property, then from the fall of the hammer, that sale is guaranteed, meaning no last-minute back-outs and a hassle-free sale for you. Following the successful bid, the sale is legally binding and will be completed in just a few short weeks. Interested to know more about how to sell a property in the North East at auction? Browse our handy guide to selling at auction, which includes all the details you need to understand the process.
Property Auctions in the North East
We frequently list properties from this area at our nearby North West auction room and of course, online too. Each year, we see a host of successful auction sales in the North East region. For details of our North West auction room, see below, or give us a call to know more about selling by online auction. 
AJ Bell Stadium
1 Stadium Way
Salford
Manchester
M30 7EY
Get in touch with us today to discuss selling your North East property at SDL Auctions. 
Buy property by auction in the North East
Our lots span across the whole of the North East and its surrounding areas, so you're sure to find an investment opportunity to suit your needs. Whether you're looking for a residential property to call home, a commercial property to start-up a business, some land to build your own project or you're simply looking for your next investment opportunity, we have a diverse number of lots to choose from.
Areas we have property listings in the North East:


Cleveland
County Durham
Darlington
Gateshead
Hartlepool
Middlesbrough
Newcastle upon Tyne
North Tyneside
Northumberland
Redcar
South Tyneside
Stockton-on-Tees
Sunderland
Tyne and Wear
Take a look at our Property Search page online at SDL Auctions to discover the upcoming lots for sale in the North East. Simply search by location and enter the area or region that you're interested in We frequently update our listings, so be sure to check back regularly to find residential, commercial, mixed-use and land opportunities at auction in the North East. Be sure to read the auction catalogue where the lot that you're interested in is listed to find full details and check over the legal pack thoroughly before making any bids. Interested in buying a property by auction in the North East, or have some questions about a particular lot or auction? Then get in touch with us to know more, or head to our property listings to find the property for you.
About the North East
Famous for its beautiful architecture, countryside and seaside, the North East is home to plenty of beautiful things to see and do. From its legendary football rivalry and its bustling nightlife, to its quiet, calm getaways and nature on every doorstep, there is something for everyone in the North East, making it a great place to call home or to find a lucrative investment opportunity. In the North East, the population is 2.65 million (ONS, 2018), meaning its a thriving region that is well worth exploring.
Why choose SDL Auctions?
As one of the UK's largest auctioneers, we're trusted in the industry to help both buyers and sellers get the best possible deal. Just last year, we secured over £210m for our vendors, with over 2,100 successful sales, both in the auction room and online. We regularly get invited to take part in the hit BBC TV show, Homes Under the Hammer as we're renowned for our lively, bustling auctions. We aim to take sales by property auction into the mainstream and make it the most efficient way to buy and sell today. Specialising in all types of property, from commercial and land to residential, you're sure to find the perfect property or sales opportunity for you at SDL Auctions.
Find out what our happy buyers and vendors have to say about their experience with SDL Auctions. 

"My first experience of an Auction purchase. I was very impressed with the whole experience with SDL [Auctions]."
Fiona
Taken from Trustpilot

"I've used SDL [Auctions] a number of times. They are an excellent agent with a high attention to customer service. Always efficient and smooth process. I would definitely recommend."
Rahis Khan
Taken from Trustpilot
Get in touch with us today for more information on buying or selling at auction in the North East.