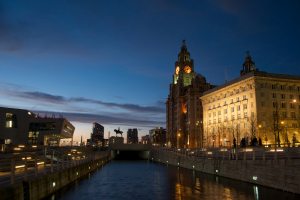 SDL Auctions have helped buyers and sellers of hundreds of properties in Liverpool and its surrounding areas, hosting several property auctions in the North West each year. If you're looking to buy or sell property in Merseyside and the surrounding areas, whether commercial, residential, mixed-use or land, SDL Auctions can help you to do just that.
We specialise in auctioning a wide variety of lots across the UK, with plenty of unique and diverse opportunities and great guide prices across a host of properties in Liverpool.
Sell by auction in Liverpool
We have a great sales success rate at our North West auctions and we always help you to set a realistic, attractive guide and reserve price so you can rest assured that your property won't sell for less than the price you agree with the auctioneer.
We make the process of selling your property in Liverpool as straightforward as possible, with an advisor on-hand to provide you with any guidance you require, both in the lead up to the auction, during and afterwards to help you to complete the sale.
Not only do many of our sellers achieve very good sale prices at auction, but you're also guaranteed to secure a sale from the moment a successful bid is made and the hammer falls, so you won't be left disappointed.
To learn more about selling your property in Liverpool or the North West, take a look at our comprehensive guide to selling at auction. This includes everything you need to know, from how to list your property for auction, to how to complete a sale.
Property Auctions Liverpool
SDL Auctions North West auctions take place at AJ Bell Stadium, Manchester, and are regularly attended by hundreds of investors and new-to-auction buyers. We see many Liverpool properties listed in our auction catalogues and successfully sold at all of our North West auctions. See location details of our North West auction house below.
AJ Bell Stadium
1 Stadium Way
Salford
Manchester
M30 7EY
If you're interested in listing your Liverpool-based property for auction at SDL Auctions North West, or online at SDLAuctions.co.uk, then feel free to get in touch with us and a member of our team will be delighted to provide you with all the information you need to begin.
Buy property by auction in Liverpool
Our lots span across Liverpool, its surrounding areas and the whole of the North West, with plenty of diverse investment opportunities to take advantage of. So, if you're interested in finding your next investment opportunity, your first home, a new DIY project or you're a budding landlord, you're sure to find what you're looking for at our North West auctions or in our online auctions too.
Areas we have property listings in Liverpool & the North West:
Aintree
Anfield
Billinge
Birkenhead
Bootle
Central Liverpool
Eccleston
Fairfield
Garston
Halton
Knowsley
Merseyside
Mossley Hill
Ormskirk
Rainhill
Seaforth
Sefton
Southport
Speke
St Helens
Thornton
Upton
Vauxhall
Wallasey
Walton
West Kirby
Wirral
Browse the lots for sale in our upcoming North West auction to find your next dream property, whatever your end goal for it is. Including both residential and commercial properties, there are plenty of lucrative investment opportunities to be had. Please ensure you read through all of the information provided in the individual auction catalogues and read the legal pack in detail before you make any bids.
If you're looking to buy a property in the Liverpool area, or you have any questions about any of the lots for sale in our next North West auction, then get in touch with us today and we'll be happy to provide you with support and guidance.
About Liverpool
Liverpool is a maritime city in the North West, known best for its bustling nightlife, great football culture and of course, Abbey Road made famous by The Beatles. With a population of over 550,000, the city is thriving with atmosphere and boats plenty of things to do and see. From shopping and eating out, to museums and experiences, this city is a great place to live, or invest in. The average property price in the North West is £160,811 and in the Liverpool area is £174,649, with the average value remaining steady over the last year. So, no matter whether you're buying or selling, you're sure to get a great price at auction.
Why choose SDL Auctions?
We're one of the largest property auctioneers in the UK, hosting auctions across the nation for many, many years. We've sold over 2,100 lots and raised over £210m raised in sales for vendors, just in the last year. We aim to turn sales by auction mainstream and take over the open-market as the number one way to buy and sell property. We regularly feature on the renowned BBC TV show, Homes Under the Hammer, where we showcase why auction is a great way to deal in property. Selling thousands of different property types, from residential and domestic, to retail, industrial and commercial investment opportunities and even land, it doesn't matter where you're located, where your property is or where you want to call home, we have an auction to help you find what you're looking for.
Need further convincing? Take a look at what our happy vendors and buyers have to say about the SDL Auctions experience: 

"Fantastic team always giving 100% and Very Professional. Explained everything honestly and clearly. Went over and above to sell my property."
Anjum Rafiq
Taken from Google Reviews

"After purchasing another property through SDL it was perfect from start to finish and it all went smoothly as usual. Always very helpful and punctual and always go the extra mile to help. 5 stars plus."
Graham Ainscough
Taken from Google Reviews
Get in touch with us today for more information on buying or selling at auction in Liverpool.