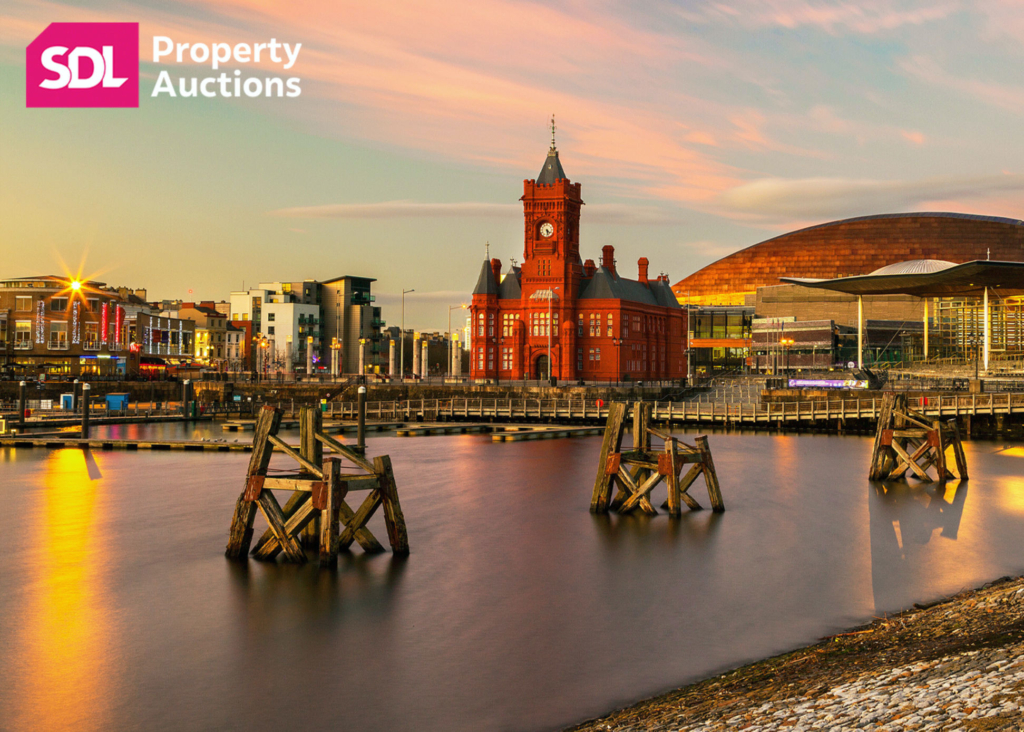 We've built up a strong reputation of trust and respect in the property auction industry over many years. Having sold properties in every corner of the UK, we have a wealth of experience in pricing, listing, marketing and selling a wide range of properties to an even wider range of buyers. Every auction we hold presents a new challenge, and our property auctions in Cardiff are no exception.
As with all the locations we operate in, the auctioneers of our Cardiff property auctions have developed an in-depth understanding of the local property market. With this knowledge, and many years of first-hand experience, our auctioneers are well equipped to help auction newcomers and experienced buyers and sellers alike.
Selling at property auctions in Cardiff
When selling a property by auction with SDL Property Auctions, you can rest assured that you'll have the opportunity to be as involved as you'd like to be. Whether you're hoping to quickly sell an entire property portfolio and would like us to take the lead, or are selling a single property and would like to follow the process closely, our auctioneers can accommodate your preferences.
Available for advice and to answer questions every step of the way, our auctioneers will keep you updated throughout the entire process. Selling your house or commercial property, whether you're moving home or are looking to make a profit on an investment property, is a truly exciting time, and we do all we can to ensure it runs as smoothly as possible.
If you're unfamiliar with what selling at auction entails, download our convenient 'Guide to selling your property at auction'. This handy guide details everything you need to know as a seller, spanning from an explanation of how to access our free, no obligation sales valuation all the way to what happens after the hammer falls on your property. Alternatively, if you'd prefer we talk you through the process of selling at our Cardiff property auctions, you can contact our friendly team of property auction experts.
Buying at our Cardiff property auctions
A beautiful coastal city which has more than earned its place as the capital of Wales, our Cardiff property auctions celebrate the incredible variety of properties available in this area. From stunning apartments with sublime coastal views to spectacular plots of land that are unmatched in potential, our buyers (and auctioneers for that matter) never fail to be impressed by the lots we attract to our property auctions in Cardiff, Wales.
No matter what buying position you're in, or what type of property you're looking for, we're confident that we'll have a property to suit you. In fact, the properties that we have available in Cardiff are some of our most diverse listings in the UK, and regularly feature anything from beautifully refurbished residential lots to well-placed commercial properties. If you're ready to start your search, take a look through the full list of lots by visiting our online Property Finder and filtering by the Cardiff location. You never know, you might find exactly what you've been looking for.
Need to know more?
Whether you're joining our property auctions as a seller or are on the lookout for a property to buy, the SDL Property Auctions team is ready to welcome you. Always on-hand to discuss any property you have to sell, or to talk you through the straightforward processes of buying at auction, you can contact the team of auctioneers online or by phone. Simply give us a call on 0800 304 7879 or email us at enquiries@sdlauctions.co.uk and we'll be in touch to help answer any questions you may have.