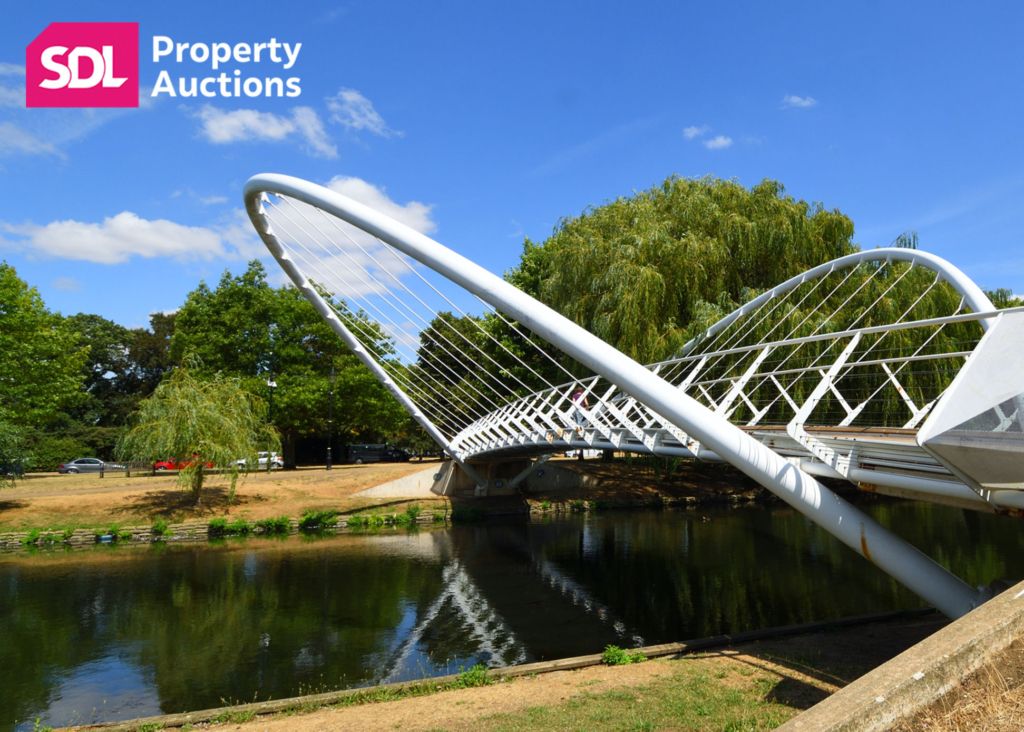 Constantly working to provide exciting opportunities for our buyers and sellers in every region of the UK, the team of auctioneers at SDL Property Auctions have built up a strong reputation of trust within the industry. Having provided invaluable advice to sellers of every position, and guided new and veteran buyers for decades, you can be assured that you'll be in safe hands at our Bedford property auctions.
Over our long history as one of the leading property auctioneers in the country, our auctioneers have held room auctions up and down the country, developing invaluable local knowledge along the way. In recent years, our auctions, including our property auctions in Bedford, have become even more accessible, with the recent introduction of our online Auction Events and Timed Auctions providing even easier ways to buy and sell property in this stunning town.
Selling at property auctions in Bedford
A hotspot for commuters thanks to the town's easy travel links to London, Cambridge, Milton Keynes and Luton, our Bedford property auctions regularly receive interest from a wide range of potential buyers. This, on top of the wide range of properties Bedford has to offer, makes for an exciting and busy stage to sell your property on.
We recognise that choosing who to entrust the sale of your property with, whether it be your current home or an investment property, is a difficult decision. Not only will you be looking to secure a profitable sale, but one that is fast, secure and binding. At our Bedford property auctions, and our events in other regions, we have strict regulations in place that protect sales from falling through. This means that, if you choose to sell under unconditional terms, from the moment the hammer falls on your sale, the highest bidder is law-bound to follow through on the purchase. This gives you a level of security and peace of mind rarely seen in other areas of the often hectic property industry.
If you'd like to learn more about the selling process at our Bedford property auctions, download our simple, jargon-free 'Guide to selling your property at auction'. Alternatively, our friendly team of auction experts are available to answer any questions you may have about the selling process, simply contact us by phone, email or live chat to start the conversation.
Buying at our Bedford property auctions
A stunning market town set within the historic county of Bedfordshire, our property auctions capture the incredible variety of properties, both commercial and residential, available in this desirable area. Known in particular for its abundance of beautiful Victorian terraced properties in the town centre, and manor homes of the same era in the surrounding areas, Bedford has something to offer every type of buyer, from landlords to business owners and developers to homeowners.
Whether you're looking to purchase one of Bedford's famous red brick Victorian terraced homes for yourself or have your eye on one of the larger detached buildings in and around the town centre with the intention of converting into flats, our property auctions have something to suit you. To start your search, simply visit our online Property Finder and filter by the Bedford location. If you need any information on how to bid, or would like to know more about the process of buying a property at one of our property auctions, contact us and our friendly experts will be happy to help.
Need to know more?
At SDL Property Auctions, we know our industry inside and out, and are always available to share our knowledge and experience with you. Whether you're a buyer or a seller, an experienced auction-goer or new to the process, we can answer any question you have. Simply get in touch by calling us on 0800 304 7879 or send us an email at enquiries@sdlauctions.co.uk and we'll get back to you as soon as possible.