12th May 2021
How does auction finance work?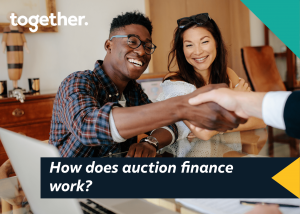 Understanding how the auction finance process works, with just a little insider knowledge, could help you be more confident when it comes to bidding at auction.
In our other guest blogs from Together in this series we've already covered the basics about auction finance, including who it's for and when you might want to use it. So this time, we're looking at the whole process so you can fully understand what's involved and go into your purchase with your eyes open.
Step 1: Get a decision in principle
Before you start searching for your ideal auction property, you should first engage with a broker or a lender to find out exactly how much you could borrow. Even if you've got a mortgage in principle in place, you should keep your options open in case anything happens to delay proceedings during your completion period.
We'll give you a quick and free decision in principle; indicating how much you could borrow, and the costs involved (including your interest payments and other associated fees) in minutes. You'll also be asked about your exit strategy when applying for auction finance – which is how you intend to pay back your loan within the 12 month period.
Depending on your circumstances, this is most likely to be one of two things:
selling the property (if you're renovating it to sell on)
arranging long-term borrowing such as a mortgage.
Whatever plans you have for the property, we'll talk this through with you in detail to make sure both you and the finance provider are confident that your exit plan is solid, so you've not got anything to worry about further down the line.
Once you're pre-approved for auction finance, you're ready to take the next step!
Step 2: Read the legal pack
When you've found a property of interest in your price range, it's incredibly important that you read the legal pack in advance of the auction.
This is usually found on the auctioneer's website, or will be available upon request. It contains all the legal information relating to the property and conditions of sale, so you must read the small print. It's advisable you get a solicitor to check the pack as well – their experience could see them spot something you've missed, and provide you with professional advice on the right action to take.
If there's something unusual about the property, you should check that this won't affect your finance provider's ability to lend. You may be surprised at what some lenders could take issue with – an ex-council building for example. At Together we have an open mind when it comes to different property types, so it's worth checking if we could help, even if you've been turned down by someone else. You should also watch out for shorter completion deadlines and any additional fees, as you'll need to talk to your lender to make sure they can get you the correct funds in time, before you make your bid.
Step 3: Making your bid
On the day of the auction event, or during the bidding period in a timed auction, it goes without saying that you need to have a maximum price in mind. Don't let the excitement or fear of losing your desired property affect your decision making – if you go over what your lender has pre-agreed, you could risk them turning you down. If you aren't successful, it's the one that got away for a reason, and there'll be plenty more gems to find in future auctions.
If you are the highest bidder – congratulations! Right away, you'll pay a deposit to the auctioneer – typically 10% plus any fees – usually by debit card, so you'll need to make sure you've got the funds in place ready.
Step 4: Completing the purchase
You'll then need to pay the rest of the balance in full before your completion deadline, which will be set out in your legal pack (usually 20 working days). If you don't pay the full balance within the timeframe, then you'll lose your deposit and could be responsible for any reselling costs – but this happens very rarely, and it's why you've arranged your finance in advance!
If you'd already decided that auction finance was the best option for you, then your lender will work with you to get the funds to your solicitor in time for completion. If you'd originally planned to pay for the property using a mortgage and things are taking too long, then it might be time to talk to your broker or a specialist lender. They'll be able to assess your affordability and, assuming you qualify, progress your application very quickly.
Step 5: After completion
Once you've got the keys, you'll usually have up to 12 months before you need to pay back your loan and arrange a long-term solution such as a traditional mortgage.
You'll have agreed in advance with your lender the interest you'll be paying each month and exactly how much you'll owe at the end – so there are no surprises. These conversations will include any exit fees or early repayment charges that may apply to your loan, which will depend on your circumstances and what type of purchase you've made (whether it's a personal purchase or an investment).
Your finance provider should keep in touch with you throughout the period you have your loan, to make sure everything is going to plan with your repayments and that your exit strategy is still viable. If you need some help, they'll be able to talk to you about any refinancing options – whether you're planning to live in your property, run a business from it, plan to let it out, or just need more time before selling it on.
If you'd like to learn more about auction finance, read our auction finance page or reach out to our team of specialist lenders at Together here who'll be able to talk you through your options.
*Any property used as security, including your home, may be repossessed if you don't repay your loan.