22nd December 2020
Year of extraordinary results ends on a high note for SDL Property Auctions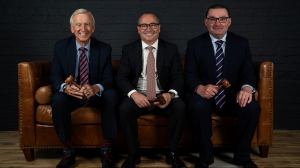 SDL Property Auctions is ending the year on a high note after achieving extraordinary results in the face of the challenges of the coronavirus pandemic.
As Timed Auctions continue uninterrupted on the company's website, the National Property Auctions calendar came to a successful conclusion with another live-streamed Auction Event.
The final National Property Auction of the year was conducted by auctioneers Andrew Parker and Rory Daly from the company's head office auction studio, with enthusiastic bidding over the telephone and internet – as well as proxy bids – for a catalogue of more than 150 lots.
Managing director and auctioneer Andrew Parker said: "This was a fantastic way to end our calendar of Auction Events in a year which has proved our adaptability as a company. We have seen some extraordinary results – which is thanks to the support of our customers and the backing of a wonderful team of dedicated, hard-working people."
The first lot of the day, a fire-damaged house in Nottingham, got the auction off to a flying start by attracting a rapid volley of bidding and selling for more than twice its *guide price of £135,000+. Bidders were undaunted by the prospect of carrying out a full renovation of 50 Rutland Road in West Bridgford, one of the city's most desirable locations and the property was sold on behalf of Rushcliffe Borough Council for £277,000.
The auction featured lots which were as diverse and widespread as ever, with impressive results achieved for lots all over the country.
An undisputed star of the show was a commercial investment opportunity; a collection of 11 industrial units in Wolverhampton. The partially-let properties, in Stamina House in Hickman Avenue, currently yield an annual income of £24,180, with the potential to increase this considerably by letting the seven vacant units. Competition for the lot was fierce and it sold for £665,000 from a guide price of £450,000+.
There has been enthusiastic bidding for Timed Auctions this month, too. These continue to run daily on SDL Property Auctions' new-look website throughout the festive period and into the new year. One three bedroomed terrace, 1 Warwick Square in Darlington, attracted 39 bids and sold for £73,500 from a guide price of £55,000+.
Andrew added: "It's been another busy month at the end of an incredibly busy year for SDL Property Auctions. While we have missed seeing everyone in person in the auction room, we are proud not just to have overcome so many obstacles this year but to have grown as a company.
"Our amazing achievements this year include becoming the UK's most successful live-streamed auctioneer – a position we have now held firmly since July – becoming an industry supplier for NAEA Propertymark and, most recently, our modern rebrand and fresh new website. Our team now deserves a well-earned rest over the festive period and we look forward to the new year ahead."
Alongside its daily Timed Auctions on the website, SDL Property Auctions will continue to hold monthly Auction Events on the last Thursday of each month into 2021, with the first two taking place on 28th January and 25th February. The speed of completion means both of these Auction Events will allow buyers and sellers to beat the stamp duty holiday deadline at the end of March."
For more information about SDL Property Auctions call 0800 046 5454.