9th June 2017
Windmill Cottage sails through auction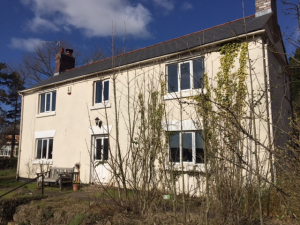 Polling for the general election on the same day appeared to have no effect whatsoever on SDL Auctions Graham Penny's Derby auction.
Lots sold on the day and prior to the event totaled more than £4.8m with strong interest shown in the 66 lots offered at Pride Park Stadium.
One of the best results was for the final lot – Windmill Cottage 185 Swarkstone Road in Chellaston, Derby, which sold for £180,000 from a *guide price of £85,000.
But there was also keen interest in the first two lots offered which both also went for more than double their guide price.
Lot 1, 76 Wild Steet, Derby, achieved £90,000 (guide price £40,000) and lot 2, 9 Basildon Close, Alvaston, Derby, sold for £80,000 (guide price £38,000).
Auctioneer and managing director Andrew Parker said: "Having the general election on the same day clearly didn't deter people from coming and buying, and you could say they voted with their feet – or their paddles.
"We were pleased to see such a busy auction room and were delighted to welcome the Homes under the Hammer TV programme to another of our regular auctions."
A number of potential development sites sold well, demonstrating there is still strong interest from the smaller developers looking for opportunities.
A building plot at Pown Street, Sheen, near Hartington, Buxton, Derbyshire, sold for £51,000 from a guide price of £35,000, and land adjacent to 50 Buchan Street, Allenton, Derby, achieved £35,500 significantly more than its guide price of £20,000.
The next SDL Auctions Graham Penny date at Pride Park Stadium is Wednesday 26 July and lots are invited now. For a free auction appraisal by the Derby team, call 01332 242880, email derby@sdlauctions.co.uk or visit the website at www.sdlauctions.co.uk.