12th May 2020
Why wait when you can sell your property by auction now?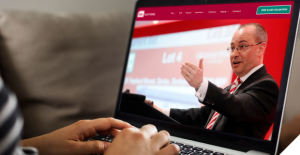 With movement restrictions continuing for the foreseeable future, SDL Auctions is urging property owners to sell now rather than waiting for the lockdown period to end.
Managing director and auctioneer Andrew Parker said: "The housing market is going to take a while to reawaken fully so sellers shouldn't feel they have to wait. We at SDL Auctions can offer a completely socially distant transaction, keeping buyers, sellers and staff safe at every stage of the process."
More than 65 properties have already been instructed to sell in the company's second national property auction, which will take place behind closed doors with remote bidding on Thursday 28th May.
Among the lots on offer are houses, flats, commercial properties and land all over the country, underlining SDL Auctions' position as a national auctioneer.
This month's national property auction follows April's successful auction; a seven-hour marathon event which saw Andrew work his way through a catalogue of 115 lots from his rostrum in the company's auction studio, accompanied only by his wife, Rachael – the regional property manager for the East Midlands – and his son Elliott. A team of staff working remotely operated the telephones.
Viewers watched the auction via a live video broadcast on the SDL Auctions website and placed bids by proxy, by telephone and on the internet.
Andrew said: "We have continually asserted that there will always be a need for people to sell their properties and this is underlined by the fact that we have raised £17 million in our property auctions since the start of the lockdown period, plus we've already sold 17 properties in only the first six working days of this month.
"One of the many advantages of an auction sale is that it can be carried out successfully from start to finish while maintaining social distancing. After a conversation with one of our expert valuers, we conduct a no-contact valuation and can have your property posted online within 24 hours."
Just as in normal circumstances, auction offers transparency, certainty and speed, with contracts exchanged at the fall of the hammer and completion typically taking place within 20 working days.
Andrew added: "Auction has always been an effective way of selling properties and the lockdown hasn't changed that. With our staff working remotely, we are proud to continue to offer our usual high level of customer service."
There is still time to sell your property in the next national property auction on Thursday 28th May. To request a no-contact, no-obligation auction valuation, click here or contact the team on 0800 304 7879.