7th July 2021
Why technology will never replace human interaction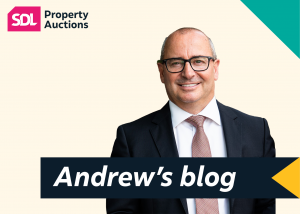 Published in The Negotiator, May 2021
Technology has proved essential during the pandemic but as we take more steps back to normal life Andrew Parker, Managing Director and Auctioneer at SDL Property Auctions, explains why he believes human interaction remains as vital as ever in the property industry.
As managing director of a company which maximises its use of technology to offer a fully remote buying and selling experience, I may surprise you by being a strong defender of human interaction.
Clearly, technology has come into its own during the coronavirus crisis and at SDL Property Auctions we have not only embraced this but are carrying some of our innovations into the post-pandemic world.
But although the pandemic may have given us new respect for 21st Century methods of communication, it has equally strengthened our appreciation for human contact. For example, while video calls have undoubtedly been the big technology hero of the pandemic, both for work and leisure, their popularity has been driven by the very human need to see a friendly face.
Remote transactions have been popular with investors for many years and during the pandemic we have adapted our business practices to enhance these. From expert desktop valuations to virtual viewings and remote bidding, the whole buying and selling process can now be done from a distance, without diluting the experience.
But as remote sales and purchases have been embraced by private homeowners during the pandemic – and look set to remain popular as society opens up again – it has become clear they must go hand in hand with personal customer service to help those new to auctions navigate an unfamiliar process. Most of us will happily order books, phones and clothes from faceless online stores but when it comes to major investments such as property, nothing can replace speaking to a real person with a wealth of knowledge and experience.
This is why we'll always make time for a chat. We appreciate people often feel more comfortable asking questions on the phone or in person than in an email.
The same is true when building relationships with estate agents, who have been instrumental to the growth in popularity of auctions among private homeowners.
Through our estate agent partnerships, we have shown we don't need to compete with each other but can work together to benefit everyone. Homeowners can choose a quick, transparent and secure auction sale, with a fall-through rate of almost zero, and the agent gets paid within days. Everyone wins and auctions provide the certainty we all crave in such an uncertain world.
Once again, technology makes this possible – in this case allowing us to create bespoke auction websites for our agent partners – but it is the human relationships which make the partnerships happen.
Building a strong relationship with estate agents – as well as buyers and sellers – is not something which can always be achieved over email. Although email remains essential for providing a trail of communication and enabling the transfer of documentation, sometimes there is no substitute for a friendly chat on the phone.
We also remain committed to providing our sellers and estate agent partners with options when it comes to selling a property. There has been a huge growth in popularity of our Timed Auctions with 24-hour online bidding and these are supported by a friendly voice on the end of a phone when required.
Equally, we know there will always be people who are reassured by the presence of a live auctioneer on the rostrum so we continue to run monthly live Auction Events to provide an experience as close to an in-person event as possible. Viewers can watch the auctioneer in action on their computer screens and, although we cannot see bidders' faces from our head office auction studio, we can see how many there are and who is bidding. By watching these closely, we can slow down to ensure nobody gets left behind. Technology makes the auction possible – but it is this human intervention which enriches the experience.
Online bidding is not for everyone; some people are uncomfortable with technology or have an unreliable internet connection. Because we don't want anyone to feel excluded, we offer proxy and phone bidding, too. Speaking to one of our team on the phone enables buyers to keep up with the pace of the bidding comfortably and of course provides that all-important human interaction.
As we take tentative steps out of pandemic restrictions, it is clear 'normal life' won't look quite the same as before. But I don't think we need to worry about being replaced by robots and I remain optimistic about the future of the property industry. At SDL Property Auctions we have always believed the old adage that "people buy from people not businesses" and no matter how much we rely on technology, it won't replace human beings, just enhance our capabilities.