6th November 2020
Why sellers in the South are flocking to auctions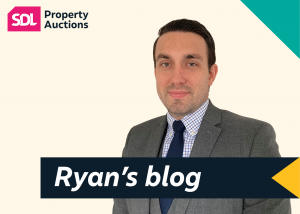 Regional new business manager Ryan Power, has been busier than ever during the coronavirus crisis, thanks to a flurry of interest from sellers in the South. Here he explains how SDL Auctions is helping estate agents in the region bring some certainty into an uncertain market.
It's been a rollercoaster year for the property market. Buyers, sellers and estate agents have had to contend with lockdown, reopening under difficult conditions and a surge of activity sparked by the stamp duty holiday. And it's not over yet, as we embark upon a second national lockdown this week.
It therefore comes as no surprise that a growing number of estate agents in the South are requesting auction valuations and selling properties in partnership with SDL Auctions. We're getting more business in the region this year than at any other time in SDL Auctions' history.
This surge in interest is helping to dispel one of the age-old myths about auctions; that we only sell wrecks at knock-down prices. Nothing could be further from the truth, as you can see from these smart properties among this month's South lots.
In Aylesbury, we have 5 Stoke Road going under the hammer in our national property auction on Thursday 26th November. Offered in partnership with Smart Move, this Edwardian family home was formerly two houses, has seven bedrooms and has been renovated to a really high standard. It has a *guide price of £650,000+.
In Eastbourne, Flat 7 in La Ronde Court, 2 Trinity Trees is another beautiful property which is well presented and ready to move into. It has plenty of space with a large and airy lounge with double aspect windows, two bedrooms and a large entrance hall which is suitable for dining or an office. We're selling this in a timed auction in partnership with Northwood. The guide price is £150,000 and the auction ends on Tuesday 24th November at 2pm.
Another smart flat can be found in Harlington, Middlesex, where Flat 18, 242 Axis House in Bath Road has recently been refurbished with sophisticated wooden floors, contemporary kitchen and stylish bathroom. It has one bedroom and is located in a modern architectural building, close to Heathrow, so sure to be in high demand. It's being sold in a timed auction in partnership with B & K Estates, with a guide price of £169,000, ending at 2pm on Wednesday 18th November.
Meanwhile in Surrey, 3 Park Cottages, Ewell Road in Cheam, is a quaint two bedroomed Grade II listed cottage which has been sensitively modernised. It's in a handy location and convenient for Cheam Railway Station which runs services to London Victoria and London Bridge. We're selling this one in partnership with Sutton Kersh with a guide price of £273,000. The timed auction ends at 2pm on Thursday 12th November.
It's clear that both private homeowners and estate agents in the South are recognising the benefits of auctions – and we're expecting many more to turn to us in the run-up to Christmas as we can offer the speed they need. The properties sold in our November auctions will exchange – and maybe also complete – before Christmas, giving partner agents a much-needed financial boost and allowing sellers to make a fresh start for the New Year.
And then there's the stamp duty holiday. Sellers on the open market are already getting anxious about completing before normal stamp duty rates return in April. That seems like a long way off but with a private treaty sale, delays are all-too common. Auction provides both speed and a fall-through rate of less than 1%. This is a welcome level of certainty in – to use 2020's most overused phrase – these uncertain times.
Despite the challenges of 2020, it's been rewarding to help so many sellers and estate agents achieve their aims, seemingly against all odds. We've been getting great results for properties all year with socially distant and safe sales and are more than prepared to continue helping sellers throughout this second lockdown and beyond.
To find out more about selling through SDL Auctions, agents can use the SDL Auctions income calculator or call the team on 0800 222 0197.