22nd April 2021
Why sellers in Oldham trust SDL Property Auctions to get the best results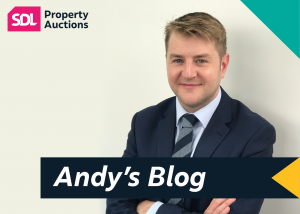 Having spent 15 years working in the property industry in this area, Andy Thompson, Head of Auctions North West has the experience and expertise to recognise a buy-to-let hotspot when he sees one. Here he explains why Oldham is so popular with buyers – and why so many sellers are trusting their properties to SDL Property Auctions.
One of my favourite parts of my job is getting a fantastic price for a property and exceeding the seller's expectations. And already this year we have achieved that over and over again, with some particularly notable results in Oldham.
The town has a thriving buy-to-let market which, combined with the highest demand versus supply for 10 years, creates the perfect conditions for sellers looking to release their capital.
Last month we sold numerous properties in Oldham, achieving great result after great result as each one went under the hammer in our live-streamed National Property Auction.
150 Chadderton Way caused a flurry of excitement in the auction studio when bidders drove the price up to £83,500 from its *guide price of £57,000+.
And this was by no means a one-off; five homes on the same street all sold well above their guide prices, too. 2 Burder Street, 4 Burder Street, 8 Burder Street, 10 Burder Street and 12 Burder Street were guided at £60,000+ each and sold for between £71,000 and £79,000, between them achieving an average of 23% above their guide prices.
None of these properties is anything special, just ordinary two bedroomed terraces – but while the editor of an interiors magazine wouldn't look at them twice, they are dependable stock which are bread and butter for property investors.
Condition is no barrier either; in our February National Property Auction, 393 Hollins Road was certainly no ideal home but had people battling to be the winning bidder. We described the property as 'requiring modernisation throughout' but despite this (or perhaps because of this – we all know investors love an opportunity to add value), it sold for £79,500, more than 76% above its *guide price of £45,000.
It's clear buy-to-let landlords are willing to stretch their budgets in Oldham because they know it offers a solid foundation for a steady income and capital appreciation. The town has good transport links into Manchester, and both a university campus and the Royal Oldham Hospital provide a constant stream of tenants looking for affordable homes to rent.
These – coupled with the fact you get a lot for your money compared to somewhere like Altrincham – mean many investors will purchase multiple properties. Some will seek out houses on the same street as their existing properties, or nearby, and are willing to pay a premium for the convenience and because they are confident of achieving both a high yield and good capital growth.
Alongside this is a good owner-occupier market, too. Generally speaking, private buyers are usually willing to pay more than investors, and once they start competing for properties, this helps to drive up auction prices.
But if Oldham has such fantastic investment potential, why are landlords selling up?
There are so many reasons why a landlord may decide to dispose of some or all of their stock; ever-changing legislation, taxation changes and problem tenants to name but a few.
Thankfully, and as we have shown, there are always more buyers keen to snap up their properties. The excellent results such as those outlined above all reinforce SDL Property Auctions' standing as the go-to auction house for property traders in the north-west and beyond.
This is backed up by some really positive feedback from new customers who have come on board recently. They're full of praise for our energetic approach, the fact that we're on the ground running auctions every day of the year and the fact we have moved with the times, providing quick responses via text or Whatsapp if that's the communication method they prefer.
But the real testament to our success is the fact that we get them the highest prices for this type of terraced property – and that's thanks to our nationwide reach, expertise and position as a market-leader.
There are several properties in Oldham going under the hammer in our April National Property Auction. You can see them here.
If you have a property to sell, find out how we can help you now by talking to our expert team. Please get in touch on 0800 046 5454 or click here to request a free valuation.