29th June 2020
Why more national sellers are turning to SDL Auctions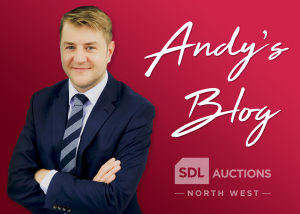 Andy Thompson, head of auctions at SDL Auctions North West, explains why more and more national corporate clients are turning to the auctioneer to sell their properties.
In the course of my work, I speak to a lot of corporate clients who often tell me they have to balance whether they want to dispose of their stock via a big auction company with a national database (albeit usually based in London) or a smaller auctioneer with a regional presence and local expertise – but less of a reach to the more national buyers.
This is when I welcome the opportunity to inform them that they don't need to compromise. By choosing to sell through SDL Auctions, they get both.
One of the many advantages of SDL Auctions North West is that we are part of the national SDL Auctions business. And, although we may be spread across the country, we are all working with each other to achieve the same aim; to sell your property for the best possible price.
SDL Auctions has a huge national database of serious buyers and, when you sell through SDL Auctions North West, your property is sent to every one of those buyers across the whole of the country and beyond. In fact, since the start of the coronavirus crisis, we have expanded this network enormously, enabling us to attract new business from even further afield.
When we partner with independent estate agents to sell family homes, we expand our reach yet further. This is a mutually beneficial collaboration for all parties – the agent, seller and for us – as the property gets maximum reach. We will send it to our huge network of investors, while the agent markets it to a further database of mainly private buyers.
But where we have the edge over most national auctioneers is in our regional presence. We have a dedicated team of valuers operating regionally, all working in cooperation with each other and all with an in-depth knowledge of their particular areas.
And it is this local knowledge which helps our properties to sell for higher prices.
I have found that, without that local insight, some of the London-based auctioneers tend to err on the side of caution when it comes to valuing a property in the North West, which could result in the seller not getting the best price.
Staff in our North West branch know the area thoroughly, giving them the experience and knowledge to carry out a fair valuation on a property so each lot starts from the best possible guide price.
Add to this our national infrastructure and SDL Auctions North West is in an extremely strong position to get the best price for a property – and more and more corporate clients are coming to appreciate this.
As well as marketing a property to our huge database of serious investors – and often selling to remote buyers – we actively work with local interested buyers who are in a position to view the property with one of our team.
On the day of the auction – whether that be at the AJ Bell Stadium in Manchester in pre-lockdown times or one of our monthly live-streamed auctions – we often find that the bidding is propelled by our national buyers. However, ultimately the lot may be sold to a local investor who, thanks to the viewing, has the confidence to go just that little bit higher and fend off the competition.
By appealing to both national investors and local buyers, we ensure the best possible price is achieved for our sellers – which is a big attraction for corporate sellers looking to dispose of stock in the most profitable manner.
Since running regular live-broadcast auctions with remote bidding during the lockdown period, we have seen traffic to our website increase and are generating the highest amount of income for sellers in the region since we began, with lots selling for an average of 16% above their guide prices. Our auctions are growing, too, and we are proud to be holding the largest live-broadcast auction in the country this month, with 168 lots, many of them in the North West.
With lots from the far north of Scotland down to the Cornish coast, we are breaking down geographical barriers, widening our reach to become a truly national company – and with the infrastructure in place to continue to grow further.
However, as we grow, what's important to us at SDL Auctions is that we maintain our regional presence. We know that our local expertise is vital to help our sellers achieve the best prices for their property, so are determined to hang on to that. We are a national company with a regional presence and that's clearly a formula that works.
To find out more about selling your property in one of our auctions, or to request a free no-obligation auction valuation, please contact the team on 0161 774 7333 or click here.