13th August 2021
Why it's never too early to discuss auctions with your sellers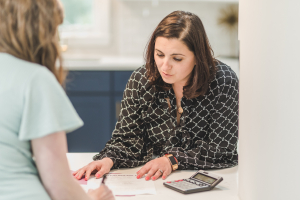 As estate agents wanting the best for your customers, sometimes you just know that auction is the right choice for a property, whether this is due to the property itself or the needs of your seller.
Auctions may have been considered a last resort for difficult properties in the past but this is no longer the case – and it's never too early to bring up the subject to your sellers. In fact, the sooner the better.
Even at the valuation stage, when a property or the seller's circumstances are perfect for auction, you can give sellers confidence in your expertise by raising the topic of auctions and highlighting the benefits. As soon as your seller agrees to sell by auction you can get things moving quickly by signing them up for an auction sale yourself with an instant instruction.
What is an instant instruction?
Instant instructions allow you to sign up the property for auction immediately. Instead of referring the property to us so we can contact the seller to discuss their options, instant instructions enable you to cut out the referral stage and speed up the sales process.
Simply send us the property details and guide price so we can list it for sale by auction as soon as the legal pack is ready.
Many of our partner agents find they get the best results for a property with instant instructions, especially when working with highly motivated sellers who are looking for a quick, hassle-free sale. Plus for properties where you may expect to get to best and final offers, offering competitive bidding in an auction takes away all the stress and ensures transparency for all parties.
Smart London terrace
Beautifully presented and modern, 46 Montana Gardens in Sydenham may not immediately present itself as a typical auction property. However, there really is no such thing as a typical lot; if the seller is keen to get moving, that makes the property ideal for an auction sale. The three bedroomed end-terrace house with off-street parking and garage was an instant instruction by Mann and Co Sydenham. It sold in in a Timed Auction for £430,000 from a *guide price of £420,000+, providing a fast and efficient transaction for the seller.
Doer-upper
Instant instructions are the favoured method of our agent partner Newton Fallowell Newark – and they lead to fantastic results. An example is 28 Boundary Road in Newark, Nottinghamshire, an end-terraced property requiring modernisation, which was offered for sale in a Timed Auction in July with a guide price of £85,000. After 39 bids from five different bidders it sold for £113,500 – a great result for the seller.
Development opportunity 
91 Scarisbrick New Road in Southport, Merseyside, was an instant instruction by WRB Auctions. The detached house on a large plot has outline planning permission for demolition and the building of eight flats, so it was particularly appealing to investors, making it the perfect auction property. It was offered for sale in a Timed Auction with a guide price of £235,000+ and was snapped up for £250,000 when the seller agreed to end the auction early.
Former HMO
You can instruct properties to be sold in our National Property Auctions, too, as Belvoir Erdington did with 24 Livingstone Road in Handsworth, Birmingham. The 16 bedroomed property was previously let as a House in Multiple Occupation with an annual rental income of around £45,000. It was offered for sale in the February Auction Event with a guide price of £350,000+ and sold for £395,000.
Sending your properties straight to auction has many benefits for both you and your sellers, as well as saving time. An attractive guide price generates lots of interest in the property, while selling by auction appeals to serious buyers who appreciate the immediate exchange of contracts. This in turn gives your sellers peace of mind that they won't be messed about.
Of course, instant instructions aren't right for every property but sometimes you just know that auction is the answer. So next time you're valuing a property like this, why not discuss the benefits of auction with the seller there and then?
If you'd like some help explaining the benefits of auctions to your customers, have a chat with our friendly team on 0345 222 0197.