18th June 2020
Why auction is the perfect place to sell a property during lockdown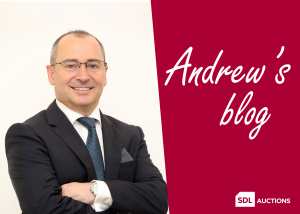 The lockdown may have made people think twice about their property plans, however as Managing Director and Auctioneer Andrew Parker explains, the team at SDL Auctions are still fully operational and running successful monthly national property auctions behind closed doors from our head office auction studio.
In fact, they have been so successful that since the start of lockdown we have sold on average five properties every working day and raised more than £34 million for our sellers through our daily online auctions and our monthly one-day national property auctions via live video broadcast.
We've found that many people simply cannot afford to wait for the crisis to pass, so we are proud to have already helped hundreds of sellers, offering them a range of sales options. And our auctions are being watched by thousands of people with hundreds placing remote bids by phone, proxy and via the internet.
Many of the properties we sell by auction are vacant and it is not unusual for an auction transaction to take place remotely, which allows us to continue to take instructions and sell properties.
When lockdown hit, I was proud to see our team react so quickly to the changes in our way of working. Within only 24 hours our entire team were set up to work at home with all the equipment they require and access to all our systems to continue to operate. We are supported by some fantastic technology that enables us to continue to use all our phone lines as normal, share files and information between the team and, most importantly, provide the high level of service our customers have come to expect from us.
Our nationwide team of valuers are on hand to carry out non-contact and in-person auction valuations, to suit the requirements of our sellers, while always taking the appropriate social distancing measures.
In fact, we deal with buyers and sellers remotely all the time – for example, sometimes sellers live overseas – so this is not at all unusual for us. We have all the technology to ensure every stage of the buying and selling process runs smoothly.
I believe that by continuing to offer auction sales throughout the lockdown, the SDL Auctions team is providing a vital service to property owners.
Even in times of crisis, people need to buy and sell property. Sadly, many people sell property as a result of other problems in their life, such as bereavement or financial issues. We don't wish to take advantage of people's misfortune, but we feel we have a duty to be there for them when they need us, offering a level of certainty in uncertain times.
We have also taken many calls from estate agents seeking help for sellers whose transactions have fallen through, whether due to movement restrictions or for other reasons.
Private treaty sales are seeing further delays as a result of the coronavirus crisis, but we can offer the certainty of a set timeframe which is very attractive both to sellers and to the agents, as it means they get paid faster, too. And demand from investors remains as strong as ever.
We will continue to operate our daily online auctions throughout July and we will once again hold a live-streamed national property auction with remote bidding only on Thursday 30th July.
I would urge sellers looking for certainty, speed and transparency to get in touch for a no-obligation chat about the auction sales process. Our team are always happy to answer any questions and offer guidance on which is the best auction type for your property.
To find out more about selling by auction, please call our friendly team on 0800 304 7879.