28th April 2021
When might auction finance be the right option?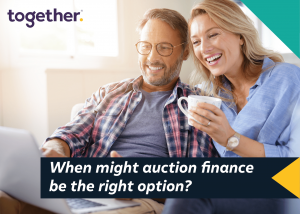 In the second of our guest blogs from Together we're going to take a closer look at exactly which situations might call for auction finance.
In our first blog, we explained some of the reasons why auction finance might be favoured by auction buyers. The clue of course is in the name, because it's designed especially to help people purchase at auction within their tight completion deadlines.
Let's take a look at five of the most common circumstances for using auction finance.
If you're buying a property to renovate and sell on (or flip)
To recap, auction finance is a type of bridging loan which can sometimes be arranged in just a few days, and can be useful if you need time to arrange long-term finance such as a mortgage.
However, you might only intend to own the property for a short period of time – if you're buying a property to renovate and sell on, for example. Property auctions are often full of hidden gems and exciting refurbishment opportunities, which could see you making a larger profit. You're only competing with other auction-goers, and you'll be able to get the keys and get started much faster than buying through an estate agent.
With auction finance, you'll have up to 12 months to turn your project into somebody's dream home or office space, while only making interest payments each month. Once you've sold the property, you'll simply repay what you borrowed up front in one lump sum.
If you're waiting for another property to sell
If you're intending to use a current property or project to fund your auction purchase, you may need finance to bridge the gap between the completion deadline on your auction property, and the completion date on your existing one.
You'll have up to 12 months to repay the loan in a lump sum – either by arranging longer-term finance, or by selling the property on. And until that happens, you'll only make interest payments each month.
If you're buying a house at auction to live in, then you won't need to make any interest payments on your bridging loan while you have it, so you can just concentrate on paying your old mortgage. Any interest will simply be rolled into the lump sum you pay at the end once you've sold.
If you're buying a fixer-upper
Alternatively, you might not wish to hand over the keys to your previous property just yet, for example if your auction purchase needs a little TLC before you move in. With auction finance in place, you could complete any redecorating or refurbishment work while living in your old property, so you won't need to rent somewhere else in the meantime.
If your renovation will add significant value to your auction property, you may be able to get a better residential or buy-to-let mortgage deal if you wait until the works are completed. You may end up with a lower Loan-to-Value (LTV) than if you'd got your mortgage at the beginning, which could mean more products are available to you.
If your purchase needs significant work
On the other hand, you might not be able to secure a mortgage if the property needs a lot of work to make it habitable. Many lenders won't lend on buildings without a kitchen or bathroom, so auction finance might be the best option for you while you make it habitable.
Similarly, if you're purchasing land to build from scratch on, you're also likely to come across barriers from traditional lenders – especially in the deadlines required for an auction purchase.
However, lenders who specialise in auction and development finance can often help in these cases – even if you haven't got planning permission agreed yet. This means you'll have time to get your project to the necessary stage before you can refinance onto a more long-term option.
If you're running out of time
Finally, running out of time before the completion deadline is one of the most common reasons that somebody might choose to use auction finance.
Remember, you've usually got less than a month to complete on your auction property once the hammer goes down – which is often much faster than a traditional mortgage or house sale can be arranged. Even if you've got a mortgage in principle with your lender, you might run into complications which see you getting close to your deadline. If you're concerned you might lose your deposit, it might be time to call on the help of a specialist lender.
We strongly recommend that you do your research and speak to a specialist lender before you bid, even if you intend to use a different method to purchase. At Together we can get you pre-approved in minutes without affecting your credit file. We'll tell you exactly what you can afford to bid, and what it'll cost you, so you can bid with confidence.
We talk more about applying for auction finance, and the entire end-to-end process, in our next blog. In the meantime, if you'd like any further information take a look at our auction finance page or contact the team at Together here.
*Any property used as security, including your home, may be repossessed if you don't repay your loan.