6th August 2021
What has caused house prices to rise in 2021?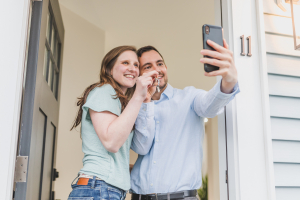 We're living in a pandemic, many businesses have struggled to stay afloat and there's talk of a recession – and yet the property market saw its busiest first half of the year ever in 2021, with prices that just keep rising, according to Rightmove.
Rightmove's latest House Price Index (July 2021) reports that the average price of property coming to the market in June hit a new record high for the fourth consecutive month, having risen by £21,389 (+6.7%) in six months to reach a new all-time high of £338,447. Prices rose by 0.7% in a month; the largest monthly increase at this time of year since July 2007.
Nationwide's House Price Index (July 2021) reports annual house price growth in double digits but falling back to 10.5%. The previous month, June 2020, annual house price growth was 13.4%, the highest since November 2004.
What is causing the rise in house prices?
Driving these increases is an increase in demand. When properties are in short supply, buyers will stretch their budgets and push up prices.
The latest RICS Residential Market Survey (June 2021) reports that demand is outstripping supply faster than ever, as new listings fell for the third consecutive month and fell even faster than in May.
Rightmove reports that the first half of 2021 saw a surge in activity which resulted in a shortfall of 225,000 homes for sale. Between January and June 2021, 140,000 more sales were agreed and 85,000 fewer properties came to the market than the long-term average.
This surge has been driven by the pandemic itself, with the stamp duty holiday effect of the past few months adding to pent-up housing demand following lockdown. Plus, of course, the coronavirus crisis has made many people reassess their priorities when it comes to their living arrangements.
Space has become our most precious commodity as, forced to stay home during lockdown, householders have needed room to work or study. At the same time, many more people have begun to put greater value on the outdoors, whether that's a desire for more space in their own gardens, or a wish for easier access to the countryside from their homes.
In addition, the success of remote working means there may be less need to visit the office when the COVID-19 crisis is over, so commuters are finding the world – or a wider part of the country at least – is their oyster. Moving away from the city may mean a much longer commute but, if people can limit this to just a few times a month, it could result in a better quality of life overall.
Which property types and locations are most in demand?
RICS Surveyors in every region of Great Britain report a shortage of housing stock, with many of them highlighting spacious rural and suburban homes as being in particular demand. Even in London, where surveyors say demand is easing, there has been no let-up in demand for larger homes.
Similarly, Rightmove has observed a clear trend of wealthy people relocating to the countryside from expensive areas. Wales has seen the biggest price growth in Britain, rising by 11.5% year on year, and last month also experienced the highest increase in housing demand.
Second only to Wales for price growth is the South West, where Rightmove reports that prices are up by 9%. Last month Rightmove reported that properties in the region were selling faster than ever recorded, resulting in just 10 properties available for sale per estate agent branch, the lowest of any English region.
Housing demand is high across almost all sectors (city flats being the exception) but is particularly high at the top end of the property ladder, where homeowners are often in a stronger financial position to stretch their budgets for the house of their dreams. Nationwide says there was a 37% increase in transactions involving properties in the £500,000+ price bracket in the year to March 2021, compared to 2% for all properties.
This is confirmed by Rightmove, which says the sector where demand oustrips supply the most is among homes with four or more bedrooms, which have seen a 39% surge in sales alongside a 15% drop in instructions since 2019.
At the other end of the market, things are much more stable, reports Rightmove, which says supply of homes with one or two bedrooms is unchanged from 2019 and sales are up by 26%, resulting in an average price increase of 3.4% for the first half of 2021.
How will supply and demand issues affect your property search?
If you are planning a house move in 2021, you may be frustrated at the lack of choice available and even when you do find the house of your dreams, you may have to compete with several other buyers in informal bidding wars, with many sales going to best and final offers or sealed bids. You won't know how much you will need to offer to secure the purchase and this secrecy only serves to feed the rise in house prices further as you may be tempted to go high to avoid missing out.
If you are one of those space-seekers looking to find a dream home in the countryside, you can put yourself in a much stronger bargaining position by selling your own home first and making sure you have a mortgage offer in principle before you go house-hunting.
Buying a property by auction will also protect you from the risk of gazumping as, once your offer has been accepted, you and the seller enter into a legally binding contract. On top of this, you don't need to second guess what other house-hunters are willing to pay for a property as all bidding is fully transparent. 

Looking for your perfect property? Please use our Property Finder to browse the properties we have for sale by auction. To find out more about selling your own property, please click here or call our friendly team on 0800 304 7879.