9th December 2020
What does the rise in property prices mean for selling property by auction?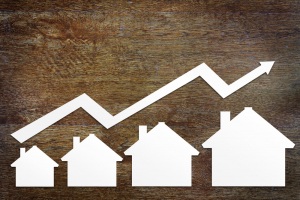 When it comes to making the all important decisions of how and when to sell your property, there are many important factors to consider, with the current property prices being only one of them. In their monthly house price report, Halifax laid out the figures, writing that house prices in October were 7.5% higher than in the same month last year. With this sharp increase in property prices, the strongest growth since June 2016, it cannot be denied that the property market has been affected by our constantly changing times.Thankfully, however, the recent rise in property prices has made selling by auction the ideal way to move forward for many sellers.
Problems facing sellers
It is undeniable that the current Coronavirus crisis has left the UK economy, and the economies of the entire world, in a very precarious situation. People all across the country are facing challenges they were entirely unprepared for, people selling on the property market included. Some property owners have been forced to sell in order to escape financial difficulties, others have faced the fear of waiting to sell, unsure whether their sales on the open market will fall through, and the overarching distress of buyers and sellers alike in this difficult time continues to add additional stress to the entire process.
In the wake of all this uncertainty, it can be difficult to know where to turn, but SDL Property Auctions have been a guiding hand for many throughout the crisis. At SDL Property Auctions, we have proudly and carefully remained open throughout the lockdown, making special arrangements in order to accommodate the rules laid out by the government such as temporarily terminating our in-person regional auction events to focus our efforts on live-streaming monthly national property auctions. Due to our agility in dealing with these changes, we have been able to interact with buyers and sellers over these difficult months and understand many of the trials this uncertain time has thrust upon us all.
How SDL Property Auctions are combating these problems
SDL Property Auctions is highly experienced when it comes to selling properties and, though we are greatly saddened and concerned for those that have been forced to sell their homes and commercial lots in order to downsize or leave their business altogether, we treat our sellers with the utmost care and sensitivity and are dedicated to securing the highest price possible. Thankfully, we can also offer our sellers meaningful reassurances during this time as, due to the speed, certainty and our proven fall-through rate of virtually zero, auctions have proved to be the perfect method of selling properties during this time.
Of course, though many sellers come to us in times of hardship, it's not all doom and gloom as many people find themselves buying and selling properties for vastly different reasons. While some are making the most of the temporary reduction of stamp duty land tax (SDLT) put in place by the government to boost sales of properties under £500,000, and others take advantage of the beautiful properties available across the country to serve the rising demand for larger homes and staycation lots, there are plenty of buyers out there who recognise the benefits of purchasing during this period.
While these benefits are applicable to buyers and sellers throughout the property market, they are particularly advantageous to those choosing to operate by auction, especially for those seeking to utilise the change in SDLT. This governmentally introduced freeze of stamp duty is only in place until March 2021, which is plenty of time for auction property sales to be completed, but is increasingly risky on the open market. The speed and certainty of sales by auction allows sellers to capitalise on this change and makes choosing how to sell your property much simpler.
Recent sale success at SDL Property Auctions
At SDL Property Auctions, we have already seen many sellers come to the rewarding conclusion that selling by auction is the safest way to ensure their lots would sell quickly and make a strong profit. In our last live-streamed auction, which spanned over two days to accommodate the increasing number of commercial properties hitting the market, we were able to achieve a higher than anticipated sale price for many properties. In the residential national property auction on the 29th October we sold a Residential Development in Matlock for £327,000 from a guide price of £150,000+.On the second day of this national property auction, the dedicated commercial lot day, we had an equally impressive record of sales, with this Detached House in Chesterfield selling for £399,000 from a guide price of £250,000+.
For our next auction, which will be on the 26th November, we have more interesting lots lined up including a Detached Bungalow in Nottingham, an Apartment in Stourbridge and a Bar/Nightclub in Denbigh. For more information on how to join our growing list of sellers, or to request a free, no-obligation auction valuation, click below or call us on 0800 046 5454. Whether its commercial, residential or land, now is the time to sell your property by auction with SDL Property Auctions.