13th November 2020
What does a COVID-19 vaccine mean for the property market?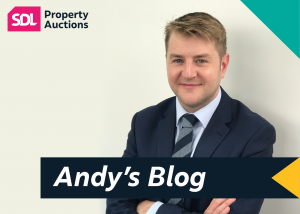 Stock markets were sent soaring this week following the positive news about a COVID-19 vaccine. Here our head of auctions north west Andy Thompson examines how this new sense of optimism could impact the property market.
After an extremely challenging year for everyone, reports that a COVID-19 vaccine could soon be ready to roll out gave us all a glimmer of optimism this week. The nation has been pinning its hopes on a vaccine to help us return to a life approaching 'normal' and, after beginning a new national lockdown, this was the news we all needed.
The effect on the stock market was startling, with some shares rising by as much as 50%. It seems optimism is back on the menu and, if the vaccine proves a success, economic growth should be, too.
This buoyancy is spilling over into the property industry, where confidence – or lack of it – is a critical component in driving house prices up or down. So the news this week of the success of the Pfizer/BioNTech vaccine should prove to be a real boost for the property market and result in a strong end to the year.
This will be aided by the stamp duty freeze as buyers rush to take advantage of the savings they can make on properties under £500,000 and sellers aim to cash in on this enthusiasm and the negotiating room it offers.
However, the stamp duty holiday comes to an end on 31st March and completion must take place before then for the stamp duty exemption to apply. In the world of auctions, that's plenty of time. But, if you're buying or selling on the open market, beating that deadline is looking increasingly risky, especially with the current high demand for conveyancing services. Conveyancers have already warned that they are "stretched to the limit" and some are turning down new work so they can ensure existing clients are not disappointed.
As a result, we expect to see an increase in both private sellers and estate agents taking advantage of the speed and certainty of auction to ensure completion takes place before the end of March. Add to this the news that second home-owners could face a huge hike in capital gains tax bills under new proposals revealed this week and we could also see an influx of landlords beginning to sell off their stock via auction, too.
Vaccine news, the stamp duty deadline and the capital gains tax bombshell should all add up to a strong auctions market for the rest of 2020, but this is no time for complacency.
When a COVID-19 vaccine is finally approved, whether it is rolled out by the end of the year or not, this should herald a beginning of a slow return to normal life – or a 'new normal' at least.
Many people will be breathing a sigh of relief but within the property market I believe there could still be dark clouds on the horizon for 2021. I think it will only be once the pandemic is over that we will start to count the cost of the virus and its impact on both the property market and wider economy.
Homemovers and investors should be prepared to face a tough 2021 – and consider selling now to ride the current wave of optimism while it lasts.
To find out more about selling through SDL Auctions, to request a free, no-obligation remote auction valuation, or for information about becoming an estate agent partner, please call the team on 0161 774 7333.