2nd November 2020
Two-day property auction is a win-win for buyers and sellers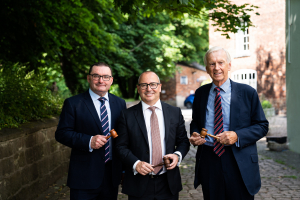 SDL Auctions' first two-day national property auction has been hailed a success after 200+ properties went under the hammer, bringing the total raised for sellers during October to £20 million.
And it was a win for buyers, too, who don't have to worry about rushing to complete their purchases before the stamp duty holiday ends. Thanks to the speed and efficiency of auctions, most buyers will be taking possession of their new properties before the end of November.
Day one of the national property auction was an eight-hour bumper sale of residential lots, while commercial properties were sold in a half-day auction the following day.
The UK's most successful live-streamed auctioneer got off to a flying start on the first day with the sale of a chapel and cottage with links to Florence Nightingale.
Bids came in thick and fast for Lea Chapel and Cottage, Main Road in Upper Lea near Matlock in Derbyshire. The lot comprised a 17th-century stone-built chapel with Gothic-style windows and a two bedroomed cottage on a large plot with the potential for an additional building, subject to planning permission. It sold for more than twice its £150,000+ *guide price, realising £327,000.
Managing director and auctioneer Andrew Parker said: "What a fantastic way to start our October auction, and a beautiful property too, with bags of potential and in a stunning location. I'm delighted to say this set the tone for the whole of the auction, and we achieved some great results across the two days."
There was strong buyer interest in properties all over the country and it was a similar story down in Wiltshire, too, where 42 & 44 East Street in Warminster attracted a fierce bidding battle which saw the block of five one bedroomed apartments sell for £289,000 from a guide price of £180,000+.
Another surge of interest was seen for 19 Esmond Road in Cheetham Hill, Manchester as bidders rushed to secure the three bedroomed terraced refurbishment project. It sold for £148,000 from a guide price of £91,000+.
In the West Midlands, 33 Waddington Avenue in Great Barr, Birmingham was one of the stars of the show. The three bedroomed semi-detached property in need of refurbishment drew enthusiastic bidding, selling for £185,000 from a guide price of £135,000+.
Day two of the auction saw some unique commercial properties go under the hammer, including the former Belper library in Derbyshire – which sold for £399,000 from a guide price of £300,000+ – and a former church in Nottinghamshire. Bidders saw the development potential in Scarrington Methodist Church, Main Street, Scarrington and drove the price up to £111,000 from its guide price of £50,000+.
In Nottingham city centre, 1 & 1a Radford Boulevard, currently let and comprising a commercial unit on the ground floor with residential apartment upstairs, realised more than twice its £80,000+ guide price, selling for £168,000.
Andrew added: "Variety is always a feature of our auctions and I'm delighted to say we once again delivered a diverse range of properties. It's always a pleasure to get great results for our sellers and we're proud to be able to continue to do this safely through our increasingly popular live-streamed auctions."
Since the start of 2020, SDL Auctions has safely sold more than 1,000 lots and raised more than £150 million for sellers, despite the challenges of the pandemic. Properties can be sold in monthly live-streamed national property auctions or in daily timed auctions.
To find out more about selling a property with SDL Auctions, call the team for a free auction valuation on 0800 046 5454 or click here to request a call-back via the simple online form.