28th December 2020
Try your hand at our 2020 auctions quiz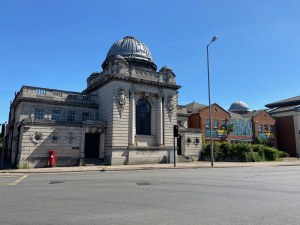 This has been a year of working from home, internet shopping, loungewear… and of course quizzes. It's been no different for our team, who have taken part in their fair share of lockdown quizzes via Microsoft Teams. We didn't want you to miss out, so test your knowledge on some of the most memorable properties we sold in 2020.
1. About the size of it
A familiar property went up for sale on the open market in November with an asking price of £275,000. 15 Goldhill Road in Leicester, which has an unusual claim to fame, is familiar to our team here at SDL Property Auctions as we have sold it twice in the past 18 months, most recently in February for £150,000 from a *guide of £135,000+. But what is particularly noteworthy about this seemingly unassuming house?
A: UK's longest house
B: UK's smallest detached house
C: UK's tallest house
D: UK's narrowest house
2. Heavenly result
We achieved a heavenly result for the seller of Widney Evangelical Church in Widney Road, Bentley Heath, Solihull in our September Auction Event, when a number of bidders made it their mission to secure the lot. The single-storey property had a guide price of £155,000+ but what was its final selling price?
A: £488,000
B: £548,000
C: £588,000
D: £648,000
3. Seamless sale
In Manchester, a former tailor's factory with royal connections went under the hammer in our September Auction Event. Owned by family-run sporting tailor Alexander James from 1979 until the company's relocation, 4-10 Mossfield Road in Pendlebury had a guide price of £160,000+ and sold for £175,000. The factory has made jackets for members of the Royal family and which top designer?
A: Alexander McQueen
B: Paul Smith
C: Stella McCartney
D: Vivienne Westwood
4. Lightning lot
Blink and you could have missed it! In September we sold 19 The Vale in Sparkhill in Birmingham in a Timed Auction in less than four days, raising £355,500 for the seller from a guide price of £260,000+. The owner had been ready to accept a much lower offer before the auction started but the bids just kept rolling in. How many bids do you think the property received? Clue: it ends in a 4!
A: 134
B: 144
C: 154
D: 164
5. Doing justice
The spectacular former Burton Magistrates' Court went under the hammer in our June Auction Event, selling for £525,000 from a guide price of £375,000+. A major landmark in the town, it features a leaded dome, elegant columns, circular windows and beautiful glass features – but how did we describe its architectural style?
A: English baroque
B: Neoclassical
C: Edwardian
D: English Gothic
6. Horror farm
You may remember the notorious 'horror farm' in Lancashire which had previously made national headlines after animals were found living there in squalor. Despite its history, its condition and an occupant who refused to leave, the farm exceeded all expectations in our May Auction Event. It had a modest guide price of £50,000+ but can you remember how much it sold for?
A: £244,000
B: £294,000
C: £344,000
D: £394,000
7. Seeing beyond the clutter
"Clearly it needs emptying" was the verdict of our valuer Laura Wiles when describing Holly Lodge in Holme Lane, a Grade II listed period detached house which went under the hammer in our September Auction Event. The exclusive rural Nottinghamshire location in the desirable hamlet of Holme Pierrepont meant bidders were willing to see past the clutter. From a guide price of £250,000+ the property sold for… well, can you guess?
A: £402,000
B: £412,000
C: £422,000
D: £432,000
8. Historical links
Lea Chapel and Cottage in Main Road, Upper Lea, near Matlock sold in our October Auction Event for more than twice its £150,000+ guide price, realising £327,000. The 17th-century chapel is believed to have had a strong connection with the family of which famous historic Derbyshire figure? If you know the area, this one is easy!
A: Florence Nightingale
B: Bess of Hardwick
C: Alison Uttley
D: Joseph Wright
9. Unforgettable features
Our buyers love a fixer-upper and are unafraid of a challenge, no matter how big. Our head of auctions North West Andy Thompson thought he'd seen everything but even he was surprised at the condition of 1046 Stockport Road in Levenshulme, Manchester. Despite this, we sold the property in our September Auction Event for £239,000 from a guide price of £230,000+. But what were Andy's first impressions of the property?
A: "Most overgrown garden I've ever seen"
B: "Most graffitied house I've ever seen"
C: "Worst bathroom I've ever seen"
D: "I hope there aren't any rats!"
10. Supersonic sale
48 North Parade in Grantham was another speedy sale, attracting 32 bids in a Timed Auction. Usually held over two weeks, our Timed Auctions can be ended early if the seller wishes to get moving, and this seller was delighted to achieve £183,000 from a guide price of £146,000+. But just how fast was the sale?
A: Two days
B: Three days
C: Four days
D: Five days
How did you get on?
Answers:
Q1- B: UK's smallest detached house
Q2- C: £588,000
Q3- C: Stella McCartney
Q4- C: 154
Q5- A: English baroque
Q6- D: £394,000
Q7- B: £412,000
Q8- A: Florence Nightingale
Q9- D: "I hope there aren't any rats!"
Q10- A: Two days