30th November 2016
Top tips for bidding at auction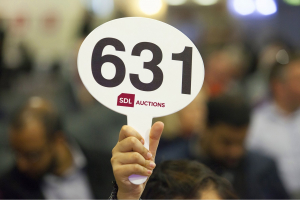 30th November 2016 – Next week SDL Auctions, the UK's largest auction network outside of London, will hold its first Chester auction with 18 lots set to go under the hammer.
Here, auctioneer Edward Feather gives his top 10 tips for those planning to bid in the Chester Racecourse auction room on Tuesday 6th December.
Make sure you've done your homework; view the property before bidding at the auction.
Read the legal pack for the property before the auction and possibly get an independent solicitor to read over it too (for a nominal charge). You could also ask a surveyor to view the property if there's a lot of renovation work required.
Get your finances in place before the auction. If successful you will need to pay a 10 per cent deposit and a £750 buyers fee in the auction room and you will complete only 21 days later.
Decide on your budget and stick to it. Don't get carried away by the excitement in the auction room and buy a property you can't afford.
Make sure you get there early so you can find the best place to sit and feel comfortable in the surroundings. It's important that you're not hidden at the back as the auctioneer may not see you.
Fill in a registration form in the room before the auction starts, show your ID and get your bidding card.
Bid clearly by raising your bidding card to the auctioneer who will acknowledge acceptance of your bid.
Don't worry if you can't make the auction room itself – you can bid by proxy, on the phone or over the internet instead.
Keep calm and enjoy it! It's an exciting event, not an intimidating one; you don't have to sit on your hands if you're not bidding
Keep bidding and you'll buy it!
CLICK HERE to view the properties and the legal packs
for the Tuesday 6th December Chester auction.