29th October 2019
The shrinking property ladder and the opportunities this presents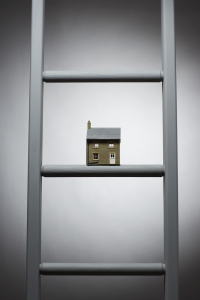 The housing ladder used to consist of a clear, 'linear' pathway, whereby first-time buyers would purchase a flat in their early twenties, then a small house around their late twenties and a family-sized property as they moved into their early-to-mid thirties, before eventually downsizing when the time was right.
This was essentially the pattern of the market before 2008, whereby individuals and couples would buy as soon as they could and then go on to move an average of 3.8 times in their lives after buying their first home. Today, this has reduced to moving into a new property a mere 1.8 times. Essentially, the property ladder is now just a couple of rungs tall, with each rung spaced fairly generously apart – but when delved into, this environment presents property investors with some lucrative opportunities.
Buy to let investors – demand for rentals
With the price of the average property still on the increase across the UK, first-time buyers are staying in the rental market for far longer while they save to buy their first home, which is great news for those in the buy-to-let market.
With the average house price across the UK currently standing at £230,929, the average age of a first-time buyer has now risen to 33 years old. This has seen each person in the UK rent for on average an extra two years over the last decade.
This boost in demand for rental properties has helped average UK rental prices increase by around 7% since January 2015, and England's rental market alone is now worth a whopping £66.7bn (more than the GDP of 150 nations, including the Dominican Republic, Oman and Luxembourg – just to put this into perspective).
This increase in the length of time that people are staying on at a rental property while they save for a deposit means that landlords are also able to find more long-term tenants, which helps to ensure a steady income for a much longer period.
First time buyers – demand for properties to renovate
The ever-increasing average property price is also encouraging first-time buyers to seek out opportunities to grab a bargain and get on the property ladder for much less. This has lead to an increasing number of potential buyers looking for properties that they can either self-renovate or have professionally renovated, as this is seen to be an investment rather than an expense.
Here at SDL Auctions, we've certainly noticed an increase in demand from first-time buyers looking for suitable properties to renovate or those with a guide price that suits their budgets.
Renovators – demand for 'forever homes'
On the flip side of this, renovating is not for everyone and the trend for moving less (just 1.8 times), has seen a surge in demand from buyers looking to find that 'forever home' that is move-in ready.
The 'forever home' dream for first-time buyers in particular is being made more attainable thanks to Help-to-Buy saving schemes that encourage young, first-time buyers to put a small amount away each month in order to secure a bonus from the government, and deposits of 5% are also being accepted by banks when buying a house. This has seen first-time buyers stretch their budgets to find the perfect property, and consequently the average price paid for a first-time property has jumped by more than 20% from £172,659 in 2008 to £208,741.
This is good news for both buyers and sellers, and certainly suggests that there could be an opportunity for investors looking to renovate properties to appeal to first-time buyers. These first-time buyers in the market for a home that is 'ready to live in' are likely to be willing to up their budgets in order to secure this 'forever home', enabling those in the market for a renovation project to achieve a significant return on their initial investment.
Whether you're a seasoned investor looking for a hidden gem of a property that can be spruced up into a real home, or you're a first-time buyer looking to make your way onto the property ladder, auction could be the route for you to secure the best deal. Get in touch with us today to learn more.