6th August 2019
The number of empty properties in the UK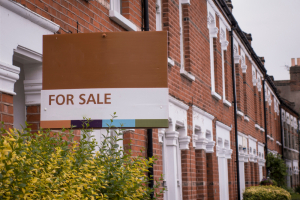 According to figures from the Ministry of Housing, Communities and Local Government, in 2019 there are more than 216,000 homes across the country that have been empty for at least 6 months or more, a 5.3% increase compared to the previous 12 months. This is the highest level of vacant properties across the nation since 2012. Delving further into this research, it's reported that across the UK there are more than 11,000 homes that have been lying vacant for ten years or more!
Taking into consideration the growing need for new homes across the UK and increasing complaints about new-build houses as over 51% of new-build homeowners experience major problems across a wide spectrum of issues, now is a better time than ever to sell an empty property, as there is plenty of demand.
Selling an empty property at auction could see you helping others as well as yourself, as with it comes many benefits that you wouldn't experience when selling your empty property through the open market. It's likely that a property that has been standing empty could look unattractive in comparison to others on the open market, however bringing it to auction puts it in front of a huge new audience that are looking for something unique to work with. We detail why 2019 is the year to finally shift that vacant property and showcase it as a unique development opportunity that will reap the benefits for years to come.
Benefits of selling an empty property at auction
Better value
A property that has been empty for quite some time is likely to have depreciated in value during the period that it has lay vacant, which means that if you were to sell on the open market, you're likely to achieve a lot less than you might have hoped. Selling at auction enables you to receive extensive marketing of your property that drives up interest and causes a buzz in the auction room as bidders are looking for their next project.  Purchasing an empty property at auction is attractive to many bidders as they're looking for developmental works, so if your property is a bit of a 'doer upper', then selling at auction will likely see you achieve more.
Opportunity
An empty property can often be seen as a golden investment opportunity for both property developers looking for their next project or those looking for their first or new home. Purchasing an empty property leaves the buyer with a great blank canvas that can be turned into something really special. Viewers of an empty property also get complete transparency in terms of the condition of the property, as there will likely be no furnishings or decoration in place to distract from any constructional or cosmetic issues, which can make your property sell a lot quicker. They're able to gain a true view of the size of the space and visualise any future plans for renovation much easier than if the home was in a lived-in state. So while you may think your empty property will be difficult to sell, there are many who are in the market for just that! Before listing your empty property at auction, remember to look thoroughly for any signs of damage to ensure you factor any issues into your plans to sell to achieve the best price.
No chain
Due to the property lying unoccupied, you will likely be in a position to sell immediately, meaning there will be no waiting around for the buyer to move in. You are able to sell the property completely on your own terms, making the process much simpler than if you were to sell on the traditional property market. As there's no chain, it will likely be a very quick sale too, which means you're free to move on to further projects or to simply enjoy your return on investment.
Wider competition
You're far more likely to achieve a better price for your property at auction as the audience is so diverse and require an empty property for a multitude of reasons. Often, the attendees of an auction are there for their next investment, and a property that is empty grabs attention quickly.
The world of renovation and making a home from a project is huge among auction bidders, so you'll likely secure yourself a price that is worthy of the property you wish to sell. The more competition in the room, the higher the price is likely to be driven up, so ensure you set your guide price at a reasonable amount to gain even further traction.
How do you sell an empty property at auction?
So if selling your vacant property at auction sounds like a good idea to you, you'll need to know how to seize this opportunity.
A lot of empty properties come through auction as it's no secret that they can be investment gold for property developers and those looking for a blank canvas to step onto the property ladder. You can find listings of empty properties by checking out an auction catalogue, like ours at SDL Auctions, where you'll get an idea of what price some properties are currently starting at, at auction.
Selling your vacant property with us will ensure there will be no 'fall throughs' once the hammer falls, and your property will be extensively marketed both online and in our auction catalogues prior to the event. We will also organise viewings with potential buyers so that they are able to see for themselves the investment opportunity you are offering.
There are many benefits to selling an empty property at auction, it's quick, you're given a wide range of competition among the attendees to achieve the best price, once the hammer falls the property is sold and there is ample opportunity with thousands of bidders attending our auctions week in, week out.
If you're interested in selling an empty property at auction, get in touch for your free, no obligation sales valuation.