29th July 2020
The financial and human costs of ignoring a damp problem in your property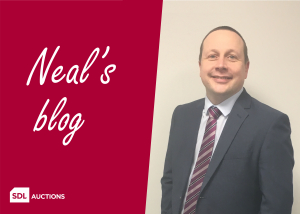 Continuing our series of blogs highlighting property problems, West Midlands valuer Neal Hume examines the issues of damp, along with the implications for you, your investment and your tenant.
One of the most common property maintenance issues for landlords is damp. Left unchecked, this can escalate into a huge problem which could affect not just the fabric of your property but the health of your tenants.
Classed as a hazard under the Housing Health and Safety Rating System (HHSRS), damp can lead to mould, aggravating asthma and causing allergic reactions and respiratory infections.
If you fail to resolve issues with damp, your tenant has the right to report you to the local authority, and you could face a hefty fine. In January, a Devon landlord who ignored a housing improvement notice was forced to pay for repairs and given an £18,000 civil penalty on top, after his elderly and vulnerable tenant complained to the council that damp and mould in the property were causing health problems.
A new law provides further protection for tenants. Introduced in March 2019 for new tenancies, since March 2020 the Homes (Fitness for Human Habitation) Act 2018 covers all tenancies, no matter when they began, and means tenants cannot just take you to court to force the repairs but can sue for compensation.
Clearly, damp is not a problem which should be ignored. The good news is that problems with damp can be resolved but inevitably, the longer they go unchecked, the more they will cost to put right.
The first step to ridding your property of damp is to establish which type you have – and there may be more than one. "Damp" is actually an all-encompassing term for several different problems, with different causes and solutions. The most common types are:
Penetrating damp: This is usually caused by water entering the property from outside, such as from a leaky gutter or around a window. Moisture travels through solid walls or the cavity and a damp patch on the inside of the property may not always correspond with the external cause.
Rising damp: This is caused by the failure of a damp proof course or, in older houses, where no damp proof course has been installed. Moisture rises from the ground and can be seen on the lower portion of the walls.
Condensation: This is an excess of moisture in the air which then lands on a cold surface such as windows. It can be caused by poor ventilation or a lack of heating and insulation. Tenants can contribute to this problem by failing to ventilate the bathroom while showering, for example, by drying laundry indoors or even by cooking in a small kitchen with saucepan lids off and the windows closed.
Even if tenant behaviour is a contributory factor, it is wise to work together to put things right, not least because a happy tenant will stay in your property longer and take better care of your investment. A condensation problem may be eased by providing better heating, installing extractor fans (or upgrading existing ones) and providing somewhere for the tenant to dry clothes safely.
To find out if your property is suffering from damp, there are several signs to look for – both before renting to tenants and when making your periodic inspections. These include:
Visible damp patches on walls or ceilings
A tell-tale smell
Condensation on windows
Patches of mould on internal walls; look in cool corners and behind furniture
White residue on external walls
Broken gutters and cracks around windows.
While all of these issues can be fixed, they are not DIY jobs and will need diagnosing and resolving by a specialist. If you cut corners with a problem as serious as damp, you can find it just keeps returning, costing you more in the long run.
If the problem is widespread and feels insurmountable, you'd be forgiven for deciding it's just not worth your time and energy. The most prudent business decision for you may be to sell the property, freeing up some capital to reinvest in another in better condition.
By selling your property at auction, you are in the best position to reach investors who are willing to take on the challenge of a property like yours and with the resources available to resolve damp problems. As SDL Auctions, we have a wide network of buyers actively seeking out investments where they can add value.
To discuss the best options for your property, please do get in touch. We offer a free, no-obligation auction valuation of your property. Just click here or call the team on 0800 046 5454.