1st September 2021
The early signs of post lockdown on the commercial property market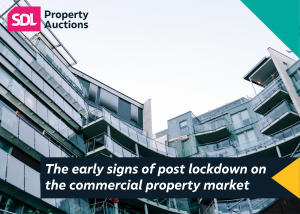 Commercial property investments have been a mixed bag during the pandemic, with the hospitality and leisure centres taking the biggest hits, while demand for warehousing has soared as online shopping became the norm.
Changes in the way we worked, shopped and entertained ourselves have all had an impact on businesses and their commercial property requirements in 2021.
Whether these changes will become permanent remains to be seen but already we are seeing trends emerge. Reduced need for large offices is counterbalanced by increased demand for warehousing, with marked differences in the performances of sub-sectors within the commercial property sector.
Overall, the latest CBRE Monthly United Kingdom Monthly Index Snapshot reports capital growth of 1.0% across all commercial property in July 2021, driven mainly by the retail warehousing sector which saw a record increase of 2.1%. 
How has remote working affected the office property market?
Office working is by no means a thing of the past, with The Guardian reporting that major investment banks in London in particular are keen to get their workers back where they feel they belong and skills minister Gillian Keegan saying older workers have a duty to return to the office so they can mentor younger colleagues. 
However, it cannot be denied that remote working has drastically changed office life – some say forever. Company bosses are currently balancing the attractive savings they could make by moving to smaller premises while considering the impact on their workforce and productivity. Many intend to retain some remote working for their staff; according to the Office for National Statistics, 24% of businesses plan to continue to use increased homeworking in the future, rising to almost a half (49%) in the information and communication industry. 
This shift towards more flexible working will inevitably reduce the need for large premises; an example is construction company Skanska UK, which is selling its Rickmansworth headquarters to move to a smaller building – although it says the decision was only partially driven by the increase in home-working. 
As a result of these changing work practices, office sector property values are currently lagging behind other commercial property sectors, but remain relatively stable with 0.2% growth, according to CBRE.
Retail warehousing has increased the most in value in the commercial property sector
Riding on the wave of an online shopping boom and leading the way for capital growth within the commercial property investment sector is retail warehousing – "fast becoming the sector to watch", according to CBRE research analyst Toby Radcliffe. This sub-sector saw a record increase in capital values of 2.1% in July 2021, closely followed by the industrial property sector at 2.0% according to CBRE. 
This is a trend which looks set to stay. Online shopping reached a record of 36.3% of all retail sales in January 2021, according to Knight Frank, leading to a boom in warehouse construction in the UK. Knight Frank's research shows that around 3.4 million square metres of warehousing are due to be created in the UK in 2021, a 60% increase on 2020, according to a report in the Guardian. 
The Evening Standard reported that one warehousing landlord, Urban Logistics, has experienced soaring demand and income on the back of the e-commerce boom, with its rental income up from £12.2m to £22.9m in the year to March 2021. 
What impact has the pandemic had on the retail property market?
​​Retail sector capital values rose by 1.1% in July, according to CBRE, but it reports that this increase was driven by demand for retail warehousing. 
As online shopping booms, the high street continues to suffer. This shift towards online shopping had begun long before the COVID-19 pandemic but was hastened by lockdown.
The Office for National Statistics reports a slight increase in online retail sales to 27.9% in July from 27.1% in June, which it says is considerably higher than its pre-pandemic market share of 19.8%.
It's not all bad news for the high street, as This is Money reports a 4% drop in online grocery shopping in the three months to August 2021 and internet shopping in general fell in June as shoppers returned to the high street following the easing of Covid-19 restrictions. Meanwhile, a House of Commons briefing paper on The Retail Sector In The UK (May 2021) reports that retail sales have broadly returned to pre-pandemic levels. 
However, when it comes to retail properties, RICS reports supply outstripping demand and retail rents are projected to decline sharply in the next 12 months, by -5.5% for prime retail property and -8% for secondary retail properties. This outlook may seem bleak but it's not as poor as in previous quarters, which could be seen as slightly encouraging. Chartered surveyors across most UK regions report low demand for retail properties; where there is demand, it is for smaller premises, particularly those which can be used to sell food, drink or to serve takeaways. 
What is happening to commercial property in the leisure and hospitality sector?
Hit particularly hard by the pandemic have been the hospitality and leisure sectors; lockdown meant no hotel stays, meals out or trips to sports facilities. Despite the government's Eat Out to Help Out scheme, hundreds of restaurants closed for good during the pandemic, including some big name chains, as highlighted in The Mirror at the end of 2020. 
Some businesses managed to adapt and survive, for example cafés and restaurants offering takeaway services, and they are now reaping the rewards of increased enthusiasm for dining out and holidaying within the UK.
RICS reports that commercial properties which can be used as takeaway outlets and for food delivery companies are in demand, particularly in London and the South East, while there is strong demand for restaurant premises in Manchester. A change to planning in September 2020 replaced various Use Classes with the much broader Class E and Sui Generis uses (in a class of its own), making commercial property investments considerably more versatile, and allowing former retail units to be repurposed according to demand. 
There is still demand for the right property in the hospitality and leisure sector and we sold an attractive pub in the Staffordshire village of Ipstones in July for £328,000, an impressive £38,000 more than its *guide price of £290,000+.  
What's happening to the industrial property market?
The industrial property sector is currently performing well and RICS is optimistic about its continued growth, foreseeing strong capital value and rental growth based on increasing demand in the sector from both tenants and investors. RICS anticipates that prime industrial rents will grow by 5% in the coming year and capital values will increase across the whole of the UK. Driving this growth is a shortage of stock both in the industrial and warehousing sectors. 
What does the future hold for commercial property investment in the UK?
While the commercial property market has experienced a turbulent 18 months as a result of the coronavirus pandemic, there is hope on the horizon, with RICS reporting optimism among chartered surveyors across the UK. More than half of those surveyed feel the commercial property market is experiencing an upturn. 
The changes to planning use classes allow for more versatility, making properties for sale appeal to a wider pool of buyers and allowing existing owners to let to a broader range of tenants. This, coupled with the ongoing business rates relief in England, Scotland and Wales, provides some support for struggling companies as we move beyond the pandemic. 
If you are considering the future of your commercial property, please talk to our expert team at SDL Property Auctions. Just get in touch on 0800 304 7879 or click here.