25th August 2020
The devastating effects of seeing your investment go up in smoke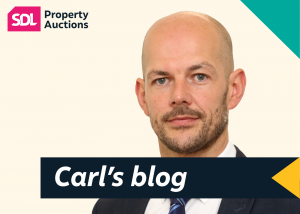 Continuing our series of blogs highlighting property problems, senior valuer Carl Finch takes a look at the steps to take if fire damages your property.
As a property owner, there can be few things more devastating than seeing your investment literally going up in smoke. And the damage extends far beyond the reach of the flames; you have smoke and water damage caused by extinguishing the blaze to contend with, too.
Safety must be at the forefront of your mind so don't enter the property unless the fire crew has said it is safe to do so after inspecting it for structural damage.
Your first call after a fire should be to your insurance company, who should have a 24-hour helpline and will be able to advise you on emergency repairs.
It's your responsibility to ensure the property presents no danger to the public and to prevent any further damage so you may need to enlist the help of a chartered surveyor and electrician to inspect it and make it safe if necessary. Beyond this, you will usually require your insurance company's approval before starting any work.
Take photos of everything! Not just the property, inside and out, but of damaged furniture and fittings as you may need these as evidence for your insurance claim. Any undamaged items should be removed if possible, to prevent them from deteriorating further.
Your instinct may be to get the property up and running again as quickly as possible but be prepared for the clean-up job to be long and laborious. As well as the damage from the flames, there will be greasy soot and ash on every surface, and smoke will have permeated plaster, carpets and upholstery.
Ash and soot can find their way into electrical fittings and corrode electronics, making them dangerous and, in older properties, the fire may also have exposed harmful materials such as lead and asbestos.
There may be water damage or even standing water in the property and this will need to be cleared as soon as possible to prevent any further damage by soaking into floors and walls. You'll need a commercial dehumidifier to dry out the property before any reconstruction can take place.
Soot, too, needs to be cleaned up quickly as it can cause staining if left too long, and mould could develop as a result of soot and moisture in the air.
Air quality is a major consideration as smoke particles can be incredibly toxic, containing tar and carbon which can cause a health risk even in any rooms which were unaffected by the flames. Similarly, food stored near the source of the fire should be discarded as it may have absorbed smoke and its toxins. Smoke gets everywhere – and the smell is almost impossible to get rid of using DIY methods.
The best way to get your property cleaned up and make the air safe again is to employ a fire damage cleaning company which will have specialist equipment such as HEPA filter vacuum cleaners, pressure washers, steam cleaners and thermal foggers. Tackling the clean-up yourself can not only be dangerous but may make things worse, so calling the professionals could save you time and money down the line.
If the task just seems too big, or you lack the time or resources to face the challenge of a fire-damaged property, remember there are always investors who are ready and waiting to buy properties like yours. Selling the property could release some capital to invest in a less challenging property, so why not get in touch with our auction team to request a free, no-obligation auction valuation. You can find out more by clicking here or calling the team on 0800 046 5454.