13th December 2019
The benefits of investing in buy-to-let commercial property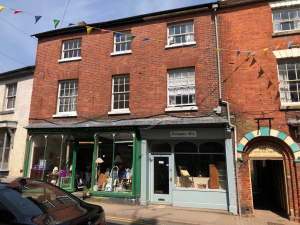 According to thisismoney.co.uk, commercial and mixed use properties have typically been achieving higher yields across the UK than residential properties in recent years. While residential buy-to-let opportunities are certainly still lucrative when done right (particularly in the context of a housing shortage), now may be the perfect time to begin exploring commercial property investment to see if you can achieve more bang for your buck.
Commercial properties tend to achieve higher monthly rent than residential, considering both risks to the property and to the viability of the business occupying it. Commercial property leases also tend to be longer term and contracts can include annual rent increases, meaning a guaranteed income for the owner for a set period of time.
In this article, we explore the benefits of investing in buy-to-let commercial property, what to look out for and give some insight into how the commercial market is faring in the local area of Derby.
Is it worth buying commercial property?
Just like any investment, it's up to the individual to decide based on a variety of factors whether investing in commercial property is the correct avenue for them. Being an investor in commercial property is vastly different to residential, with many different types of commercial property to choose from, as well as maintenance, legislation and licencing factors to first consider.
However, as mentioned previously, the work you have to put in initially may just be worth it when you begin to reap the benefits of securing a tenant that signs a fixed, long-term contract that is subject to annual rent increases.
Depending on the type of building, where you purchase a commercial property and how that area performs for other businesses will determine the industries you can consider opening your property up to. Whether it is worth the investment is determined by the viability of the business you let to, so being selective in the process and doing research on similar businesses in the area is advised.
Does commercial property increase in value?
Just like residential property, the value of commercial property ebbs and flows according to a whole host of political and economic factors. So, while commercial property can certainly increase in value over time, it can also decrease. This is something that any property owner, residential or commercial, has to consider when making a property purchase.
While some factors such as Brexit may have knocked investors' confidence in the lucrativity of commercial property, research by Shawbrook shows that the UK commercial property sector remains a highly developed market worth almost £900 billion. With this in mind, it seems that investing in commercial property now may just be the way forward, achieving a low purchase price and seeing value increase as the country potentially settles into new political territory.
What is the average return on commercial property?
The study by Shawbrook summarises that compared to various other asset classes, the average commercial property rental yield in the UK has remained stable over the last few years, at around 5% across all sectors in 2019. However, properties bought at auction with SDL Auctions have typically achieved a 6-8.5% yield in the Derby area, depending on covenant strength and length of lease. From Shawbrook's research, the retail sector UK-wide surprisingly shows the highest yields at 5.7%, perhaps indicating that the death of bricks-and-mortar retail has not arrived quite yet. Further research by Savills UK found that rental yield in the commercial property market has seen a steady increase consecutively over 15 months, which instills confidence in investment in this sector.
Rental yield refers to the return made on a property investment in terms of monthly rent charged compared to the value of the property/price paid. Generally, around 7% or higher tends to be thought of as a very good yield, and so 5% on average is very fair in the current economy.
To calculate the potential rental yield of a commercial property you wish to purchase, take what you expect will be the annual rental income, then divide it by the price (use your budget price if uncertain, as at auction only guide prices are given prior) and then multiply this number by 100.
So for example, for a property that costs £200,000 with a monthly asking rent of £900, the yield will be 5.4%:
£900 x 12 = £10,800
£10,800 / £200,000 = 0.054 x 100 = 5.4
Commercial property in Derby
A study carried out by JLL.co.uk shows that throughout 2019, the East Midlands came out as one of just two regions across the entirety of the UK that has seen significant growth in the commercial property sector, with a 63% increase in investment in commercial property in 2019. This indicates that commercial property is in-demand within this region and that business viability may be far more certain within towns in this locality.
Therefore, snapping up a commercial property in Derby could see you bring in prosperous returns. Naturally this is indicated by the level of investment taking place, which has increased even in the face of Brexit uncertainty and a general election, and so the prospect of success is greater here than many other places across the country.
If you'd like to discuss further about investing in commercial property, one of our friendly team will be happy to provide you with any advice and guidance needed. Call us on 01332 242 880 today.