28th August 2018
The 3 D's – Debt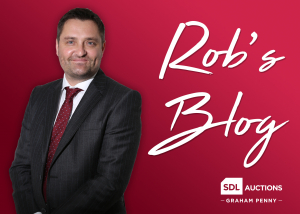 In the property industry, debt, divorce and death are widely thought of as the three main motivations behind the sale of a property and are known as the three D's.
In the first in a series of three blogs, Robert Stone, our Derby Senior Valuer talks about the first D – debt.
An area which can bring on extreme stress and complication, debt is sadly a situation many of us may find ourselves in at some point in our lives. Whether it be personal debt or business debt. If that happens then you often need to find some money to pay off debts and put you back on an even keel.
If you're a landlord or investor with a portfolio of properties, that could mean selling off one or more of your assets. In that situation a sale by auction could be the swiftest way to generate some income and settle your debts.
However, sometimes financial difficulties are taken out of our hands due to repossession of a property or insolvency of a business. In those cases, it's down to the professionals to sell off any assets and recover whatever money they can.
We work with a number of banks, receivers and other professional services businesses to help provide a speedy sale and completion to enable them to settle any outstanding debtors.
Whichever situation you may find yourself in, an auction could be the quickest and simplest way to sell a property. A room full of potential buyers can often generate competitive bidding and achieve the best possible sale price. In many cases, the price we achieve at auction exceeds the seller's expectations and more than clears their debt.
The whole auction sale process could only take around six weeks – from instruction and marketing through to sale and completion. Plus on the fall of the hammer, your property is sold and contracts are exchanged with completion taking place only 28 days later. That's not a long time to potentially get tens of thousands of pounds into your bank account to help settle your debts.
If you're looking to sell your property in the auction room, then contact the SDL Auctions team. We know that being in debt is extremely stressful and our dedicated and experienced team can alleviate some of the stress.
Click here for a free, no obligation auction appraisal.