5th September 2013
New marketing manager joins team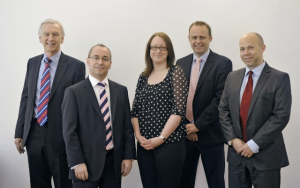 5th September 2013 – Leading Midlands property auctioneers and estate agents Graham Penny has appointed Chrissie Walker as marketing manager as part of the company's continuing growth and expansion in the region.
Chrissie will be responsible for creating and managing a regional marketing and brand management strategy for Graham Penny Auctions and Graham Penny Estates and working to expand the company's corporate partnerships within the Midlands and beyond.
The announcement comes as Graham Penny Auctions announces its expansion into Leicester with seven auctions per year taking place at Leicester City Football Club's King Power Stadium. Early this month Graham Penny Estates also announced expansion plans with the appointment of two new local estate agents to its Derby team.
Andrew Parker, director at Graham Penny, commented: "Chrissie's appointment represents a new and exciting chapter for us and is something we've been planning for some time.

"In the past two years we have experienced significant growth, with the opening of our Nottingham office on Wheeler Gate and being named the number one auctioneers in the Midlands and now our expansion into Leicester, and we've got many more plans for further growth now Chrissie's on board."
Prior to joining Graham Penny, Chrissie was an Account Director at integrated marketing and communications consultancy, bcsAgency. She has more than 15 years' marketing experience managing regional, national and international campaigns and has a particular interest in PR and digital engagement.
Chrissie said: "Graham Penny is a recognised and respected name in the Midlands property scene and I'm delighted to be joining the team at such an exciting time in the company's growth. We have reached an enviable market position through organic growth and I'm looking forward to helping accelerate the group's expansion plans and develop the brand."
Graham Penny Auctions has offices on The Strand in Derby and Wheeler Gate in Nottingham and with 21 sales per year in Derby, Nottingham and Leicester from 2014, it dominates the region's house and property auction market in terms of lots offered, lots sold and revenue raised. It also operates Graham Penny Estates from its St James's Street office in Derby.