16th June 2020
Surge in rental demand makes it a great time for landlord investors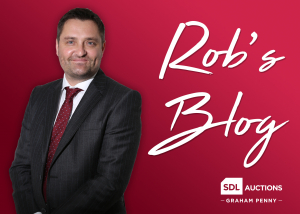 Despite understandable fears of loss of income during the coronavirus crisis and the extension of the eviction ban until 23rd August, Robert Stone, head of auctions East Midlands believes it is still a great time to invest in a rental property.
The coronavirus crisis has been a trying time for us all, with each of us impacted in different ways – many people devastatingly so.
For landlords, there has been understandable concern that rent would not be forthcoming from tenants who are furloughed or unable to earn money at all.
However, a survey by the National Residential Landlords Association (NRLA) has shown that the vast majority (90%) of tenants have still managed to pay their rent on time throughout the crisis, quelling fears of a spike in evictions once the ban is lifted.
And reports of a surge in rental demand could spell more good news for landlords. As reported in The Negotiator, towards the end of May rental demand leapt to 22% higher than the same period last year – with demand outstripping supply.
There are several reasons for this. One is the inevitable increase in demand which follows months of being unable to move home. Another has been attributed to urgent job relocations as staff are required to work elsewhere to face the various issues precipitated by the pandemic.
And then there is the strain of lockdown itself. It is often said that property sales are driven by the three Ds – death, debt and divorce – and the rental market has clearly been affected by the last one, with weeks of confinement bringing many relationships to the brink, triggering further demand for rental properties.
While nobody wants to cash in on a crisis or take advantage of other people's misery, this does put investors in a strong position to provide a valuable service to tenants, providing good quality homes for them to rent. Buying a property to let now could mean you are able to let it almost immediately.
And where better to find properties to add to your portfolio than at an auction?
Thanks to technology and the flexibility of our team, we at SDL Auctions have been able to continue operating during the lockdown, running daily online auctions alongside our monthly national property auctions, being held behind closed doors with remote bidding.
It's a system that's working extremely well and, since the beginning of the lockdown period, we have sold 252 lots and raised more than £31 million for sellers.
In our upcoming national property auction on Tuesday 30th June, going under the hammer will be over 160 terraced houses, apartments and family homes all over the country – many of them ready to move into and ideal for tenants.
We can help if you have a property to sell too. To request a no-obligation auction valuation, please call the team on 01332 242 880 or click here.