2nd August 2021
Summer sensation for SDL Property Auctions as high demand continues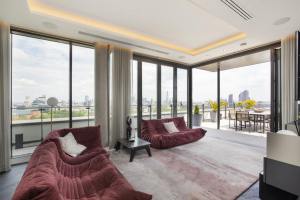 In a sensational summer of sales, SDL Property Auctions brought July to a close by holding its ever-popular monthly live-streamed National Property Auction on the back of its biggest ever catalogue.
Throughout the month, SDL Property Auctions has secured over £31 million in sales through its live-streamed auctions, Timed Auctions and Buy it Now sales for sellers of all types of property, from tiny parcels of land to multi-million pound apartments.
Firmly dispelling the myth that auctions are only for low-priced, rundown properties was the sale of a sumptuous triplex penthouse in London, which had a *guide price of £2.5m+ and sold prior to the live-streamed auction conducted on behalf of Knight Frank. Apartment 104, Parliament House, 81 Black Prince Road in London. The exceptional apartment occupies three floors, crowning the development, and is finished to an extremely high standard. The apartment features spectacular uninterrupted views across the capital, thanks to full-length windows and two private terraces, plus concierge service and the use of a private residents' gym.
Enjoying views of a much more rural kind is Old Lower Hall in Bowling Bank near Wrexham, a nine bedroomed detached house set in two acres of land with stables, next to the River Dee. Dating back to the 18th century and fully renovated in the 1980s, it was offered for sale in a Timed Auction in partnership with Beresford Adams Wrexham. It had a guide price of £455,000+ and, after 16 bids from five separate bidders, sold for £500,000.
In the auction studio, three experienced auctioneers – Rory Daly, Graham Penny and guest auctioneer Isabel Murtough – worked their way through the biggest catalogue ever for the National Property Auction.
The live-streamed Auction Event got off to an exciting start with the sale of a refurbishment project in Cardiff. Offered for sale in partnership with Taylors with a guide price of £20,000+, 166 Inverness Place attracted enthusiastic bidding from hundreds of online, phone and proxy bidders and sold for an impressive £162,000.
Managing Director Andrew Parker said: "We were anticipating that this property would be popular but this fabulous result exceeded all expectations. It's a great result for everyone; the buyer has a wonderful opportunity to add value to the property and the seller is, as you can imagine, delighted."
There were plenty of smart family homes snapped up by bidders on the day, too, including 24 Ryecroft in Lincoln, a well-presented mid-terraced property in a quiet cul-de-sac location. The three bedroomed home, currently tenanted at £9,980 per year, sold for £135,000 from a guide price of £95,000+.
Among the commercial lots to attract bidders' attention was a village pub in Staffordshire. The Grade II listed Marquis of Granby in Church Lane, Ipstones has been maintained to a high standard by the current tenant, who recently signed a new 21-year lease. The property sold for £328,000 from a guide price of £290,000+.
Andrew added: "We have sold pubs, penthouse apartments, cottages, terraced houses and development properties this month at SDL Property Auctions, which just serves to highlight the sheer variety of lots which are suitable for auction. It's been another successful month and we continue to have a sensational summer of sales."
To find out more about selling a property by auction, or partnering with SDL Property Auctions, please visit www.sdlauctions.co.uk or call the friendly team on 0800 046 5454.