22nd June 2017
Stoke's 'heaven and hell' up for auction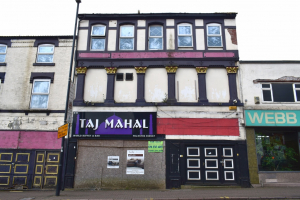 A former nightclub and restaurant site in Stoke-on-Trent is set to cause a stir when it appears at auction next month with SDL Auctions.
What used to be the Heaven & Hell nightclub and the Taj Mahal restaurant and bar at 4-8 Waterloo Road in Burslem heads a range of Stoke properties appearing at the auction at Villa Park, Birmingham on Thursday 6 July.
The three-storey, mid-terraced building of approximately 8,790 sq ft has a guide price* of £175,000 and will join a catalogue of 157 lots.
Gurpreet Bassi, SDL Auctions' partner and head of auctions in the Midlands, said: "This former nightclub, restaurant and bar might be suitable for conversion into a wide variety of alternative uses including residential development, subject to planning permission.
"This building is likely to draw a lot of interest from potential buyers, and together with a range of terraced Stoke properties also appearing at the auction this shows just how active SDL Auctions is in this area."
The current owners of the Waterloo Road property have already explored the possibility of residential development and an indicative scheme prepared for them shows 17 apartments, subject to planning permission.
The auction will also feature a range of terraced homes in Stoke-on-Trent, with guide prices ranging from £30,000 to more than £60,000. These include:
Mr Bassi added: "Such a wide range of terraced homes means our auction will present great opportunities for investment in Stoke-on-Trent, and we're expecting a really busy day."
The auction in the Holte Suite at Aston Villa FC starts at 10.30am on Thursday 6 July, and SDL Auctions is advising interested bidders to get there early to take their seat in the auction room as huge interest is expected.