18th November 2019
'Still time to secure a sale before Christmas if you choose auction,' house-sellers told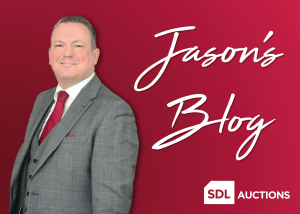 Many house-sellers will have given up hope of selling their properties before Christmas but there is a solution if you're keen to get moving, according to SDL Auctions' National Sales Director Jason Lee who says the speed and certainty of auction is the answer.
He said: "Many sellers feel so pressured by the Christmas or New Year deadline that they feel they need to be more flexible on the price – either by accepting a lower offer or by dropping the price to attract more viewings and encourage a quick sale. But we at SDL Auctions feel there is a much better way – instead of reducing your asking price, why not put your property up for auction instead?"
By doing so, he said, there's still time to secure a sale before Christmas.
He explained: "With an auction sale, contracts are exchanged immediately on the fall of the hammer or a reservation contract is signed – which means there is virtually no risk of the sale falling through. This not only eliminates uncertainty but provides the speed that so many sellers desire.
"It also means you have the choice of selling your property in any of our December auctions around the country or via online auction at any time, securing a sale before Christmas."
Jason was keen to offer assurances that an auction sale doesn't mean sellers have to compromise on price.
He said: "Selling in an auction actually ensures you get the property's true value, which is the price a buyer is willing to pay. You can set a reserve price so you don't have to accept anything lower and, if you get more than one bidder interested in your property, this can drive up the value."
As one of the largest property auctioneers in the UK, holding online auctions as well as room auctions in Birmingham, Nottingham, Leicester, Derby and Manchester, SDL Auctions has a nationwide network of serious buyers looking for properties.
Jason said: "We advertise properties widely, including on the major property portals, and can draw on a huge network of landlords, developers and private buyers, many of whom come to our auctions with the full intention of buying a property and the finance in place to do so."
As well as the option to sell via online auction at any time, there are several room auctions being held before the end of the year:
• Nottingham: Thursday 21st November and Thursday 19th December, Nottingham Racecourse
• Manchester: Monday 9th December, AJ Bell Stadium
• Derby: Friday 13th December, Pride Park Stadium
• Leicester: Tuesday 17th December, King Power Stadium
• Birmingham: Wednesday 18th December, Villa Park.
Jason added: "Selling a property shouldn't be stressful. An auction sale is straightforward, transparent and fast, and the ideal solution if you're looking to secure a sale before Christmas."
For more information about selling by auction, or to book a free, no-obligation auction appraisal, please click here or call 0800 304 7879.