17th March 2020
Statement regarding our March auctions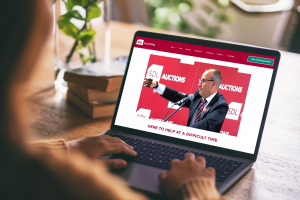 Following the Government's latest advice, we have taken the decision to hold our March auctions in Birmingham (Wednesday 25th March), Derby (Thursday 26th March) and Leicester (Friday 27th March) via video only.
The auctions will go ahead as planned with all bidders able to carry out telephone, proxy or internet bids to secure their purchases, however they will be held behind closed doors with no bidders able to attend our auctions in person.
You can submit your telephone, proxy or internet bid request here. Once you submit your form, a member of our team will call you back to confirm your bidding requirements and method of deposit payment.
Our auctioneer Andrew Parker will conduct the auctions as normal and you will be able to watch and listen to him in real time via the 'watch live' feed on our website. This is not something new and last year we sold in excess of £80m of property online.
We have the very best technology available and are supported by a dedicated team of people. The safety and health of our customers, partners and our staff are our primary focus and due to these unprecedented times, we felt this was the most appropriate course of action.
We have a comprehensive phone and email system which allows the entire team to work remotely and stay connected with updates on our lots and auctions. Plus, our auctions are already filmed for our live video feed and we already operate multiple remote bids each auction day so our sellers can be assured all bidders will be able to bid should they wish to.
We are committed to providing the high level of service that our customers expect and to looking after our staff. Most of our team are now working from home and have been for 7 days.
Viewings
All viewings are still to take place as planned and as advertised on our website. If you do not wish to attend a viewing you have booked onto, please let our team know as you may be the only person booked to view. We are also in the process of setting up YouTube channels for each of our March auctions where we will be posting video tours of our properties in place of viewings should you not wish to attend.
We will endeavour to keep all our customers updated with any further changes to our operation via our website and social media channels. If you have any further questions, please do not hesitate to contact our team on 0800 304 7879.
In times of uncertainty we're pleased to be able to offer our customers certainty and security in their property sales and purchases. Thank you for your continued support and understanding. Our thoughts are with all those affected by Coronavirus both in the UK and around the world.