7th August 2018
Site with care home planning permission for sale with SDL Auctions Graham Penny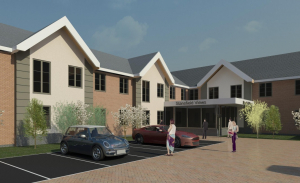 A major opportunity to develop a substantial new care home in Burslem is one of the stand-out commercial lots to be offered in the next SDL Auctions Graham Penny Nottingham auction.
The site is the former Stanfield Nursery in Dollys Lane and has planning permission dating from March 2016 for the development of a 48 bedroomed care home. It has a *guide price of £225,000.
Nick Trow, commercial auction valuer at SDL Auctions Graham Penny, said: "The provision of facilities for the elderly is at the top of the agenda in every area of the country and this is a ready-made opportunity. The planning permission allows for the demolition of the former nursery and the erection of a three storey care home."
If built in accordance with the current planning permission, the accommodation will include ten single bedrooms on the ground floor with ensuite WC and wash hand basins.
The ground floor will also include a lounge/dining room, cinema room, hairdressing salon and spa, treatment room, kitchen and laundry room.
The first floor will comprise 18 single bedrooms, also with ensuite WC and wash hand basins and a lounge. The third floor will provide a further 12 single rooms, a lounge and training room.
The plans provide for a secure courtyard garden, two additional garden areas and 12 parking space.
The next SDL Auctions Graham Penny Nottingham auction takes place on Tuesday 4 September at Nottingham Racecourse. Property owners looking to sell can request a free auction appraisal by calling 0115 958 8702 or emailing nottingham@sdlauctions.co.uk.