10th November 2020
Shopaholic? Less than £1m could buy you a whole shopping centre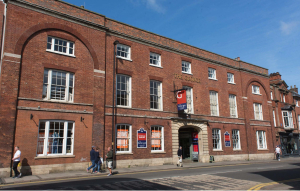 A landmark shopping centre could be yours for less than £1 million when it goes under the auctioneer's hammer this month.
The George Centre in High Street in Grantham retains the Georgian façade of the former George Hotel, making it a distinctive landmark in the heart of the town. It offers an exciting and unique opportunity according to experts at SDL Auctions, which will be selling the property in its national property auction this month.
Senior valuer Carl Finch said: "This is a really prominent building within the town's main shopping area which benefits not just from its High Street frontage but with additional frontages on both Guildhall Street and Westgate. There is strong pedestrian footfall and the site would make an excellent buy for an investor with the vision to realise the property's true potential."
The George Centre, which has a *guide price of £950,000, is a part Grade II listed building with a combined area of 58,000 square feet (5,388 square metres). It comprises a covered shopping centre with 40 retail units, six office suites, a storage unit and a car park. Currently around half of the retail units are let, realising an annual rental income of £142,000.
Carl said: "Clearly there is scope to increase the rental income by letting the vacant units but this property offers so much more potential on the first and second floor spaces which could be converted into residential accommodation if the necessary planning permissions were obtained. 
"By relocating all of the retail units to the ground floor, this would free up a huge amount of space for redevelopment. If plans were approved, we estimate that around 40 flats could be created, boosting the property's income potential to around £400,000.
"It would make the ideal location for residential properties, with great amenities close by and excellent transport links into Nottingham, Lincoln and London via the town's railway station."
The three-storey centre is steeped in history, incorporating the old George Hotel which was built in 1780. The brick-built building includes original features such as fireplaces, Adam decoration on the stairs and a circular window with original tracery. It is believed the cellars may contain traces of a medieval inn. A later addition was built in 1923.
The property was significantly remodelled in the 1990s when it was converted into a shopping centre and is currently occupied by a mix of independent retail outlets and high street names spread across two floors. The centre has disabled toilets and baby changing facilities, plus stairs, lifts and escalators to the first floor. It has an onsite car park with 41 spaces, although there is further parking nearby which could be used by shoppers if the existing space was used for residents' parking in the event of a residential conversion.
The George Centre is due to be sold by SDL Auctions, the most successful live-streamed auctioneer in the UK, in its national property auction on Thursday 26th November.
There is still time to sell your own property in the auction. To find out more, or for a free, no-obligation auction valuation, call 0800 046 5454 or click here to request a call-back via the simple online form.