12th April 2021
SDL Property Auctions' March sales are up by 184%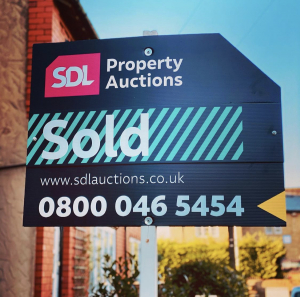 SDL Property Auctions has just completed its most successful March ever, raising more than £28.8 million for sellers – an 184% increase on March 2020.
This impressive figure was raised through a combination of live-streamed Auction Events, Timed Auctions and Buy It Now sales.
By maintaining a continuous service throughout the pandemic and during every level of lockdown, SDL Property Auctions has experienced growth in every area of its business, increasing the number of lots sold by 94% compared to last March and trebling the income for estate agents within its 1,300-strong partner network.
The end of March marked a full year of holding live-streamed auctions during the pandemic, providing managing director and auctioneer Andrew Parker with the opportunity to reflect on just how far the company has grown in a year.
Andrew said: "What a difference a year makes! In March 2020 we took the difficult decision to hold our auctions behind closed doors, several days before the government announced the nationwide lockdown.
"Our intention was never to cash in on the pandemic but to provide a service to help people sell their properties while the rest of the property market was closed for business. Our instincts and experience told us that people would still need to buy and sell property as this often goes hand in hand with other major life events so we wanted to be there for those who needed us most."
Andrew praised the SDL Property Auctions team for not only keeping going during the pandemic but growing the business to become the market leader it is today.
"While the pandemic has been challenging for everyone – and tragic for far too many people – we are incredibly proud of our team's ability and willingness to adapt to new ways of working and of the way we have all turned SDL Property Auctions into a nationwide, market-leading business."
In the past year, the company has extended its geographical reach to attract sellers from all over the UK, from the north of Scotland down to the south coast.
Indeed, it was a property in Hampshire which provided one of the most outstanding results in the March National Property Auction. 56 King George Road in Andover, a fire-damaged property sold in partnership with Countrywide Property Auctions, exceeded all expectations by selling for £129,000; almost three times its *guide price of £46,000+.
The property was part of a bumper auction catalogue, which Andrew and auctioneer colleagues Rory Daly and Graham Penny worked their way through over the course of 10 hours.
But the monthly Auction Events are just a part of the story for SDL Property Auctions, which sells properties by Timed Auction on its website every day of the year.
Among the Timed Auction sales in March was a stunning Grade II listed former mill cottage, old watermill and bakehouse in Shropshire. Corn Mill and Mill House Clee St Margaret in Ludlow was offered for sale in partnership with Nock Deighton and sold for £345,000, well above its *guide price of £325,000+.
Andrew added: "Over the past year we've shown that auctions can be held safely within social distancing restrictions and can achieve fantastic results for sellers of all types of property. We have shown many more people just how fast, certain – and effective – auctions are, which is laying down the foundations for further success in the future."
For more information about SDL Property Auctions, please visit www.sdlauctions.co.uk or call the team on 0800 046 5454.