17th December 2013
SDL Bigwood in £50million-plus auction success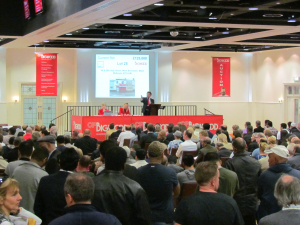 A strong end to SDL Bigwood's auction year saw business well ahead of 2012.
The December event held at Aston Villa football ground totaled £7,580,700 of property sold, with an 84 per cent success rate and 100 per cent in the case of local authority lots.
It means the cumulative figure for 2013 came in at £51,082,200, with 604 lots offered and an aggregate success rate of 76.6 per cent.
The 2012 comparison was just under £47 million on 570 lots.
Jonathan Hackett, partner and head of auctions at SDL Bigwood, said: "More people are choosing the auction route – the size of our auctions and the numbers attending is massively bigger than it once was.
"There are always a few unsold lots but not many. So it offers sellers certainty as against going private and risking things falling through.
"Once again the room was absolutely rammed and the bidding was fast and furious."
This time round the hottest lot was a former fire station in Barrett Street, Cape Hill, within the new Mitchells Brook residential development.
The guide price was £35,000 and it sold for an amazing £300,000.
On the residential side three bedroom semi-detached properties proved extremely popular – 40 New Road, Solihull, guide price £215,000, sold for £275,000; 6 Nevin Grove, Great Barr, £50,000, £83,000; 231 Queslett Road, Great Barr, £49,000, £107,000;
324 Deans Road, Wolverhampton, £39,000, £65,000; 41 Brynmawr Road, Lanesfield, Wolverhampton, £49,000, £81,500; 106 Osprey Drive, Russells Hall, Dudley, £54,000, £84,000; and 43 Perrywood Road, Great Barr, £78,000, £110,000.
Malvernbury, 61 Abbey Road, Malvern, the spa site where Florence Nightingale was nursed back to health after her exertions during the Crimean War, was left unsold. Available at a guide price of £500,000-£600,000, bidding stopped at £525,000.
It has planning permission for conversion into eight apartments plus the construction of three town houses and a coach house.
Other residential highlights were 41 Arthur Road, Erdington, guide price £150,000-£200,000, a substantial linked detached with five bedrooms, sold for £240,000; 17-19 Gordon Road, off Heathfield Road, Lozells, two vacant freehold terraced properties converted into a single eight bedroom house, guide price £215,000-£225,000, sold for £236,000; a derelict end terrace at 2 Hamstead Road, Handsworth, went for £76,000, more than double the guide price; and a bungalow at the rear of 107 Edward Street, Cannock, guide price £24,000, fetched £66,000.
On the commercial side, public toilets in Washwood Heath Road, found a flush bidder prepared to pay £35,000, £10,000 over the guide.
And a shopping parade at 94-95 Brasshouse Lane, Smethwick, guide price £70,000, sold for £154,000.
There was brisk demand for parcels of land.
Examples included land adjacent to 2 Berners Street, Lozells, guide price £1,000 and sold for £6,500; adjacent to 155 Wellington Road, Handsworth, £20,000, £34,000; at the junction of Witton Lane and Holte Road, Aston, £50,000, £72,000; and adjoining 94 Grange Road, Small Heath, £35,000, £61,000.
Meanwhile, all seven lots of ground rents sold with a large block of flats at Moseley Court achieving £475,000.