4th February 2016
SDL Bigwood announces new executive structure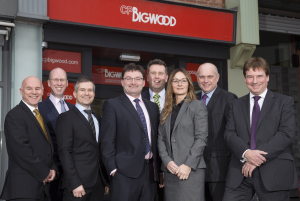 SDL Bigwood has announced the new executive structure to take the business forward following the company's acquisition by national property services group SDL Group.
The board is headed by chief executive officer Rory Daly and now includes Brett Williams, Bob Simonds, Ian Smallman, Ian Tullett, Brian Bentley, Jonathan Hackett and Louise Kean.
Former directors Nigel and Paul Curry have retired.
Rory Daly said: "We wish Nigel and Paul well in their retirement. They were so much part of the success of SDL Bigwood following the merger of Bigwood with Curry & Partners in 2011.
"Our new executive team has the skills and experience to take SDL Bigwood on to the next level. The financial and group support of SDL Group will enable us to accelerate our growth plans.
"We hope to build on our traditional strengths in auctions and property management to grow both organically and by tactical acquisition.
"We hope to make our first announcement in early Spring and we have a number of other potential acquisitions in the pipeline."