11th September 2019
SDL Auctions is double-shortlisted for prestigious Negotiator Awards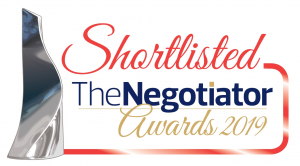 SDL Auctions has been shortlisted for two categories in the prestigious Negotiator Awards.
The company, the fifth largest property auctioneer in the UK* and the most successful in the Midlands every year since 2006, is in the running for both the Residential Auction Service of the Year award and Rising Star of the Year for regional property manager Sarah Miles.
Andrew Parker, Managing Director and Auctioneer at SDL Auctions, said: "We are delighted to be shortlisted for not one but two categories at the Negotiator Awards this year. There is a lot of competition for these awards so being shortlisted is a great honour and is a testament to the dedication of our hardworking team.
"We are particularly proud of our regional property manager Sarah Miles who, at just 26 years old, has already proved herself to be a rising star within the company and now her achievements are being recognised at a national level."
Sarah joined SDL Auctions – which has offices in Nottingham, Birmingham and Salford – as an auction administrator straight after graduating in 2014 and within two years was promoted to Nottingham Property Manager, managing six auctions per year at Nottingham Racecourse and her own team of auction administrators. Earlier this year she was promoted to regional property manager, overseeing online auctions room auctions in Manchester.
Andrew added: "From the moment she joined us as a new graduate, it was clear Sarah had much to offer. She has always been totally in control, maintaining a calm approach under pressure and demonstrating wisdom beyond her years. No matter how busy she is, she handles all enquiries with a professional and friendly attitude. She's a real asset to our team."
The Negotiator Awards is the UK's leading awards programme the residential estate and letting agency industry. Last year, SDL Auctions was awarded Bronze in the Residential Auction Service of the Year category and Andrew is hoping to improve on this when the results are announced at a glittering awards ceremony in London in November.
He said: "To be awarded Bronze was a fantastic achievement but we are confident we can do even better this year. So much has happened at SDL Auctions in the past 12 months as our online auctions division in particular continues to grow and we have ambitious plans for the future."
The Negotiator Awards shortlist will now be considered by a panel of judges made up of industry experts and the winners will be announced at a gala dinner at Grosvenor House, Park Lane, London, on Friday, 29 November.