26th September 2018
SDL Auctions colleagues to battle it out for title of Novice Auctioneer of the Year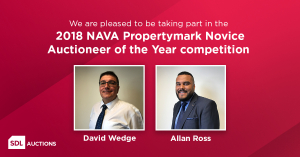 Two SDL Auctions staff members will be going head to head on the rostrum as they battle it out to be named Novice Auctioneer of the Year in a national competition.
David Wedge and Allan Ross, who are both business development managers at SDL Auctions, have made it through to the final shortlist in the NAVA Auctioneer of the Year competition which will be held at the Cambridge Belfry on 24 October 2018.
There they will not only be competing against each other, but also against a further eight contestants who will have to convince the judge they have what it takes to make a career on the rostrum.
The competition involves a bidding sequence organised to demonstrate possible occurrences in the saleroom and to test the entrant's skill, knowledge and presence on the rostrum. There is then a final round where the finalists will auctioneer at the Gala Dinner later that day.
But the two SDL Auction Partners colleagues could not have better mentors. Andrew Parker, managing director and Abigail Selwood, operations manager at SDL Auctions have both previously won the award.
David Wedge has worked in the property sector for 20 years in a variety of roles from valuer to managing director. He previously ran an independent agency and has also worked in the prestigious Surrey market before returning to his roots in the North West. Allan Ross has worked within estate agency and consultancy for 12 years and both team members have long harboured the ambition to become an auctioneer.
Andrew Parker said: "The skills required to make a successful auctioneer are not always apparent. You need confidence, awareness and the ability to extract the maximum value for each lot out of the room.
"For the inexperienced, the rostrum can be a very lonely place, but when you have all the auctioneering skills at your fingertips and you have created a lively atmosphere in the auction room, there is no better feeling than seeing the bidding paddles going up and the price climbing.
"Equally, when times are hard, it is the skills and experience you have acquired in many hours on the rostrum that enables you to find that winning bid in the room, where others might have given up."
This latest news is just one of a number of accolades that SDL Auctions has received this year. It has been included in the shortlist for next month's EA Masters Suppliers Guide and the business is also double shortlisted at the Negotiator Awards in the Residential Auction Service of the Year category and the Supplier of the Year – Products and Services (Marketing) category.