2nd November 2018
SDL Auctions Bigwood wins Company of the Year at Birmingham Post Business Awards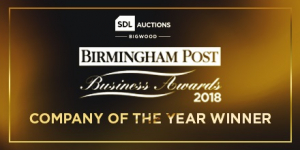 SDL Auctions Bigwood has been crowned Company of the Year at the Birmingham Post Business Awards.
Birmingham Post editor-in-chief Marc Reeves paid tribute to the success story that is SDL Auctions Bigwood.
"It's no exaggeration to say that SDL Auctions is a home-grown success story which doesn't show any signs of slowing down," he said.
"Through careful acquisitions, the company has expanded its reach to become one of the premier auction houses and property services firms in the region, if not the UK.
"Congratulations to all of our winners and shortlisted finalists which thoroughly deserve their moment in the spotlight and again reaffirm the city's and region's place at the forefront of business."
SDL Auctions Bigwood, which has its offices on Great Charles Street in the city centre and has grown greatly by acquisition and mergers in the past ten years.
Its recent growth started with the creation of CP Bigwood in Birmingham in 2011, following the merger of Bigwood and Curry & Partners. It then acquired two further practices, Lloyd Property Management and DMA Chartered Surveyors.
SDL Auctions was then established in 2016, following SDL Group's acquisition of CP Bigwood, Graham Penny Auctions in the East Midlands and Humphreys which operated in Cheshire and North Wales.
Andrew Parker, managing director and auctioneer at SDL Auctions said, "We are delighted to have won Company of the Year at the Birmingham Post Business awards. It is a testament to our hard working staff and the growth that the company has shown over the past few years."
The award win is the latest in a series of accolades for SDL Auctions this year, with the company having also achieved a double success in the prestigious EA Masters where it won Gold awards for both Large Business and Best Overall Supplier.
And recent recruit Debs Latham who joined the firm in September was named Novice Auctioneer of the Year by the National Association of Valuers and Auctioneers (NAVA) at a national competition.
Now staff at SDL Auctions Bigwood are waiting with bated breath to see whether they have also been successful in the Birmingham Awards on 24 November at Edgbaston Stadium where they are shortlisted in the Business of the Year category.