23rd September 2020
SDL Auctions adds dedicated commercial property auctions to its calendar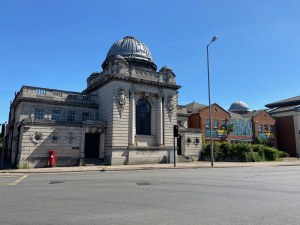 Fresh from launching its biggest catalogue yet, SDL Auctions has announced it is adding dedicated auctions of selected commercial properties to its calendar.
The next commercial property auction, on Thursday 15th October, follows many years of successfully selling commercial properties around the country. More than £14.2m has been raised for commercial property sellers in 2020 alone.
Managing director and auctioneer Andrew Parker said: "We are now the UK's most successful live-streamed auctioneer and, as a result, are being asked to help an increasing number of sellers from all over the country. We are selling a selection of commercial properties in a dedicated auction and see this as the ideal opportunity for other commercial property sellers to reach a particularly focused audience."
SDL Auctions has maintained a consistent auction schedule throughout lockdown, live-streaming monthly national property auctions from its head office auction studio. It has sold more lots in live-streamed auctions than any other UK auctioneer this year, selling more than 1,000 lots and raised £100 million for sellers. For the past two months the auctions have topped the 200-lot mark and last month SDL Auctions was the first auctioneer to offer 200+ lots in August since 2008.
Commercial lots span a huge range and this year have included shops, offices, mixed-use properties, warehouses, former public toilets and garages.
One of the most memorable was the former magistrates' court in Burton-upon-Trent. Retaining its unique baroque architecture, including its formidable magistrate's bench, glass dock and landmark leaded dome, the property attracted enthusiastic bidding in the June national property auction and sold for £525,000 from a *guide price of £375,000+.
Andrew said: "It was a privilege to be asked to sell such an important part of the town's history. We were delighted to see it gain the attention it deserved and look forward to seeing how this remarkable building is used in the future."
More usual is the sale of retail units, such as 465 Welford Road in Leicester, a shop formerly occupied by a butcher and baker, with an office and storage above and the potential for conversion to residential accommodation, subject to planning consent. Sold in the August national property auction on behalf of Nest Estate Agents, the property raised £180,500 from a guide price of £155,000+.
Further north in Cheshire, 67C King Street in Knutsford, offered spacious office accommodation in a self-contained first-floor property within an attractive courtyard in the town centre. Featuring a large office, private meeting room, kitchen, WC and shower, the property was ideal for small business owners and sold in May for £160,000 from a guide price of £150,000+.
In July, a warehouse to the north-west of St Joseph Street in Dudley, drew keen attention from investors, who drove the price up from a guide of £150,000+ to its final selling price of £225,000.
Andrew added: "It's always fascinating to see the huge variety of lots in our auctions and we are delighted that our success has allowed us to add additional auctions for commercial properties to our calendar, aimed at this distinct type of investor."
If you have a commercial property you would like to sell in the auction on Thursday 15th October, you can request a free auction valuation by clicking here or calling the team on 0800 046 5454.