19th November 2020
Savvy landlords will sell now to beat any Capital Gains Tax hikes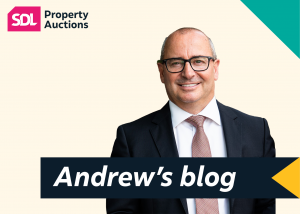 Could landlords and second home-owners be hammered by a doubling of Capital Gains Tax? Managing director and auctioneer Andrew Parker looks at the headlines and the government report to find out how this could impact the property market over the coming months.
In a year that has been especially challenging for landlords, they were hit with yet another bombshell last week – a flurry of media headlines warning that Capital Gains Tax (CGT) could be doubled.
After years of increased legislation for landlords, CGT changes which came into effect in April and a pandemic which has effectively halted evictions, this is not the news they wanted to hear. It's no wonder landlords are feeling under constant attack.
The news stems from a report produced by the government's Office of Tax Simplification (OTS) – and I think we can all agree that some simplification would be welcomed. Any legislation changes result in winners and losers but experience tells us that when the government alters taxation, landlords will often be the losers.
The report highlights that there are currently four different rates of CGT, all lower than the equivalent standard rates of income tax. Therefore, more closely aligning CGT with income tax is the basis for several suggestions for reform. This could 'theoretically' raise as much as £14 billion a year for the Exchequer – 'theoretically' because the report states that changing the rates could result in a change in people's behaviour; namely that they would hang on to their assets rather than pay the higher CGT.
Capital Gains Tax is paid on any profits made on a residential property which is classed as a 'second home' but not on your main residence. You pay tax on the gain above the annual exempt amount of £12,300, minus any other reliefs.
Currently CGT is charged at 18% for a standard rate taxpayer and 28% at the higher rate. Income tax, on the other hand, is 20% at the standard rate and 40%/45% for higher taxpayers.
This, coupled with suggested changes to the annual exempt amount, could result in huge increases in CGT liability, particularly for higher taxpayers.
Whatever the nuts and bolts of the final decision, this is yet another blow for landlords who have been taking it on the chin for many years. Landlord taxation has never been more stringent, with changes in recent years including additional stamp duty on purchase and the loss of mortgage interest relief.
Becoming a buy to let landlord is no longer a case of purchasing an extra property and enjoying the rental income. In fact, research by SevenCapital suggests that only one in 10 investors now buy as individuals, with the vast majority investing via a limited company instead. This can allow landlords to take advantage of higher levels of tax relief – although it's important to stress this is not always the right move for everyone. Always seek specialist tax advice which will be based on your own particular circumstances.
Complex legislation, changes to eviction laws and now potential CGT changes… it's no wonder so many landlords are throwing in the towel and cashing in their assets. If you're having problems with a tenant, or were considering selling up in the next couple of years anyway, this latest news could be the reason to bring your plans forward and sell sooner rather than later. The good news is that we're finding this out at a time when the market is riding high, boosted by pent-up demand and the stamp duty holiday.
This report on Capital Gains Tax does not represent any new policies at this stage and is merely a series of recommendations. However, the stamp duty holiday has already cost the government at least £108 million, according to research by Benham and Reeves, and other pandemic-related costs run into billions, so they will be looking to claw this back from somewhere.
Whatever changes come to Capital Gains Tax, they are expected to result in an influx of investors selling up, which could drive down property prices. Therefore, savvy landlords will consider selling now while the property market is still strong.
To find out more about selling through SDL Auctions, to request a free, no-obligation auction valuation, please call the team on 0800 046 5454.