27th August 2021
Rise in demand for staycations – opportunities for property investors?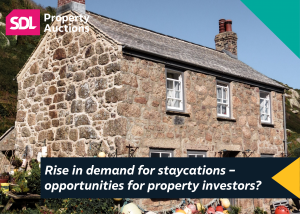 Two summers of restrictions on foreign travel have resulted in a boom in holidays at home, with many staycation properties booked up for the rest of 2021 and filling up fast for 2022 as UK holidaymakers plan to stay at home next year, too.
Despite easing of COVID-19 restrictions, foreign travel is still by no means straightforward, with rules around testing and isolation varying according to destination. These rules can even change during your holiday, as they did for many holidaymakers in 2020 when they learned partway through their break that they would need to quarantine on their return.
For this reason, many people are keeping things simple by staying in the UK for their holidays, creating huge demand for staycation properties. Holiday let companies are springing up rapidly, according to a report in the Financial Times, which says the UK saw 1,401 businesses launched in the first half of 2021, an 83% increase on the same period in 2020.
This high demand for staycation properties is pushing up rental costs and making buying a holiday home in the UK one of the biggest property investment trends of 2021.
As with any property investment, there are pros and cons, and you should always do your due diligence before you buy a holiday home anywhere. Here we have outlined some of the advantages and disadvantages of investing in a staycation property in the UK.
Buying a holiday home in the UK for your own use
Do you love the idea of being able to drop everything and flee to your own holiday home for the weekend? If you enjoy exploring different destinations, buying a holiday home may not be for you but if you love to visit the same holiday destination over and over again, investing in a staycation property of your own would mean you no longer have to search for the perfect holiday home each year and can simply decamp to your own place which you know will have everything you need.
Renting it out when you're not using it could make it lucrative, too – and if you're in it for the long haul, you have the option of retiring to a location you love.
But owning a holiday let is not all sunshine and free holidays. In fact, if your business is a success, you may struggle to get a holiday there at all, especially if you have school-aged children as you're likely to want to use the property at its busiest times. You may have to blank out times for your own use, but if you reduce its availability by using it too much yourself, you can jeopardise its Furnished Holiday Let status and miss out on some tax advantages.
What is Furnished Holiday Let status?
Holiday lets are treated as a business for tax purposes, as long as they meet the government's criteria for Furnished Holiday Lets (FHLs), which state they must be:
in the UK or the European Economic Area;
furnished;
available for holiday letting for at least 210 days a year, excluding time you or your family spend there;
let for at least 105 days a year, not including letting to friends for free or at a discount;
not occupied by long-term tenants for more than 155 days in a year.
If all these criteria are met, your property will be considered a Furnished Holiday Let (FHL) and qualify for various tax advantages.
Tax benefits of owning a holiday home in the UK
The staycation property sector has largely escaped the taxation changes experienced in the long-term rental sector – for now at least – Furnished Holiday Lets criteria are treated as businesses for tax purposes.
If you own a holiday home in the UK which meets the FHL criteria, you will benefit from various tax advantages. These include:
Mortgage interest relief: This has been phased out for long-term residential landlords, so the fact that all mortgage interest is fully deductible for tax purposes is considered a major advantage.
Furnishing the property: Unlike in a residential rental property, the cost of furnishing counts as a capital allowance.
Pension contributions: Any profits count as pensionable earnings, which is not the case for income from a residential rental property.
What income can you expect from letting a holiday home in the UK?
Even before the pandemic, the UK staycation industry was worth over £24.6 billion in 2019, according to the latest figures available from Visit Britain, so this is a business well worth tapping into. This was an increase of almost 3% on the previous year, and staycations have boomed since lockdown restrictions were lifted so this figure looks set to increase further.
Airbnb says that up to 2018, UK households alone earned £854m in extra income through renting their rooms and properties on the platform. The average annual earnings for Airbnb hosts in the UK in 2018 was £3,100, although these were mainly through short breaks, with an average stay of 3.1 nights, and if you run your holiday home as a business, with year-round letting, you can hope for greater returns.
Holiday home prices vary according to the season, in line with demand, so your income will fluctuate more than with a long-term buy-to-let property. You can charge higher rents in the summer – and this can easily exceed a monthly rent for a long-term let.
Prices vary according to the property, too. For example, a quick search for a cosy cottage for two on the Norfolk coast found properties ranging from £339 to over £1,200 per week in the low season, rising to a range from £690 to almost £1,900 in the high season.
You can charge more if you accept pets, as many people like to holiday in the UK with their dogs, but expect more wear and tear on the property and higher cleaning charges.
It's worth bearing in mind that holiday let income can be inconsistent and seasonal, particularly with a coastal property or one in a resort popular with families. And instead of one or two short void periods between tenants each year in a residential let, the average holiday property will only be let for 20-24 weeks a year, unless it's in a highly popular area.
You'll need to balance this against the fact that you will have outgoing all year round – you will still need to heat and maintain the property and pay for services such as WiFi.
It's a good idea to check out the opposition by seeing what other holiday home owners are charging and how booked up they are.
Initial costs of buying a staycation property investment
When it comes to financing a holiday property investment, there are fewer products available and you will usually need a bigger deposit than for a residential buy-to-let.
Just as with a long-term let, there's a 3% stamp duty surcharge if you already own a property. However, this does not apply if the second property is freehold and costs less than £40,000, so don't forget to use our Property Finder to check for any properties coming up for auction.
Don't forget to factor in the costs of furnishing the property, which will need to be done to a high standard to enable you to maximise your income. Online reviewers will soon point out if your staycation property isn't up to their high expectations.
Ongoing costs of owning a staycation property investment
When you own a holiday home you have many ongoing costs which you don't have with a long-term rental property.
Dents in your rental income include utility bills, broadband and TV licence, expenses which would be borne by the tenant in a residential let. But there is some good news; instead of council tax, Furnished Holiday Lets are liable for business rates and many will qualify for full Small Business Rate Relief meaning there is nothing to pay… although that cost would fall to your tenant in a long-term let anyway.
In addition, insurance is likely to be higher than insuring a home you live in all year round, to account for the increased risk of those longer void periods.
Owning a holiday home – what work is involved?
Landlords know that running a buy-to-let is hard work – but owning a holiday cottage is even more so. Instead of changing tenants every six or 12 months – or longer – new tenants every week mean weekly laundry, weekly maintenance checks and cleaning, which must be especially thorough during the pandemic. In addition, a holiday let has to meet stringent safety standards and any equipment you provide must be checked regularly.
You don't have to do this all yourself, of course, but you'll need to find people you can rely on or hand over the management of the property to an outside agent. This will cost more than management of a standard residential let and all eats into your profits.
What kind of holiday property should you buy?
Find the right property in the right location and your investment could turn out to be very lucrative, so it's important to choose your staycation property wisely. Large family houses are popular in school holidays and can be let at a premium – but it could sit empty for much of the year. They can be popular with large family groups who want to book them for a weekend, but can also attract boozy stag and hen parties, which could result in property damage or complaints from the neighbours.
In contrast, a cosy cottage or a bolthole for two is smaller and therefore restricts you to charging a lower rental fee but it could attract couples all year round, particularly if you choose your destination carefully. Visit Britain says the biggest spenders are the 55+ age group, and these may be more likely to want a holiday home for two and are less likely to be tied to school holidays.
Where to invest in a holiday home in the UK
If you plan to use the property yourself, you'll want to invest in a location you love so if your favourite holiday spot is a seasonal resort, consider this carefully. A coastal property will be popular in the summer months – just when you want to visit, too – but could hold little appeal in the winter, particularly if attractions are closed. If this is the case, you may wish to weigh up if you will get a better return on your property investment if you purchase a buy-to-let property and use any profits for extra holidays.
If, however, your favourite haunt is somewhere with year-round attractions, investing there could be a wise move. For example, Norfolk is always popular with bird-watchers, while the National Parks attract walkers, cyclists and climbers all through the winter. Don't rule out cities as they always have something to offer; Condé Nast cites Bristol, Cambridge and Manchester as top destinations for 2021.
However, do beware of occupancy restrictions limiting your choices in very popular tourist resorts, while some local authorities require planning permission before a property can be let, so make sure you do your research in advance.
As with any investment, it's important to weigh up the pros and cons – so make sure you carry out thorough research and always speak to a specialist tax adviser before making a move.

Why not use our Property Finder to search for a holiday home as an investment or for your own use? Or to find out more about selling your own property, click here or call our friendly team on 0800 304 7879.