5th October 2021
Renting a property vs buying a property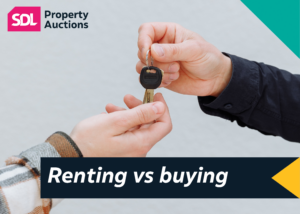 There are signs of the rental market bouncing back from the pandemic in autumn 2021, with a surplus of renters creating favourable market conditions for landlords, letting agents and property developers.
Demand for rental properties has never been higher, according to Propertymark's Private Rented Sector Report, and UK cities are making a comeback. After reaching a high of 171,080 at the end of 2020, the number of surplus rental properties currently stands at 57,382, which is 41% lower than before the pandemic (Property Reporter).
High demand is good news for landlords and property investors and this positive market is likely to continue, according to the latest Zoopla UK Rental Market Report (August 2021) which said: "The strong levels of rental demand seen during August will moderate in line with seasonal trends, but overall demand for rental property is likely to remain higher than usual in the coming months, amid a swing back to city life."
Renting vs buying homes in 2021
Despite this increase in demand, the proportions of people renting vs buying homes have remained relatively stable since the 1980s, according to the latest English Housing Survey (2019-20).
Home ownership peaked at around 70% in the early 2000s and the English Housing Survey shows that 65% of the estimated 23.8 million households in England were owner occupiers, unchanged from 2018-19 but an increase from 63% in 2016-17. The remaining 35% is made up of renters, split between private renters (19%) and social tenants (17%). These figures put 4.4 million households in the private rented sector in England alone.
The sector's growth can largely be attributed to an increase in sales of social housing since the late 1970s and a reduction in building (ONS). With the percentage of tenants remaining roughly the same, and reduced social housing availability, it is clear private landlords have played a vital role in fulfilling renters' housing needs.
What is the state of the rental market in 2021?
In 2021, letting agents are experiencing high demand for rental properties, with Propertymark revealing that the average number of new prospective tenants registered per branch in August was the highest on record for the second month running, rising to 107 from 102 in July. At the same time, the number of properties managed per branch fell 196 in August.
These figures are backed up by Zoopla, which says rental demand is up 19% compared to last year, while the total stock of rental property is down 13%.
The situation is exacerbated by landlords leaving the market. This Is Money reports that many older landlords are exiting the market due to taxes and regulations, and not being replaced by new buy-to-let investors. However, Propertymark says the number of landlords selling their properties is currently stable, decreasing marginally in August to four per letting agency branch from five in July. This is the same year on year as August 2020.
Despite many landlords reportedly considering exiting the market, the increasing demand from tenants, against a falling supply, creates ideal economic conditions and landlords are letting their properties almost a week faster than in 2020, according to Zoopla. The average time to rent a property stood at 15 days across the UK in August, down from more than 20 days in July 2020. This is the fastest the rental market has moved since 2016.
How is supply and demand affecting rents?
Rent increases are being reported across the board, with Rightmove recording the biggest quarterly and annual jumps ever. It says asking rents are now 2.6% higher than in Q1 2021 and 6.2% higher than a year ago.
Zoopla reports that rents are growing at their fastest rate since 2008, with rents outside London rising across the UK by 5% over the 12 months to the end of July. The regions recording rental growth at 10-year highs in July according to Zoopla were the South West (+7.6%), East Midlands (+6.8%) and the North East (+6.5%), with Wales trailing very closely behind with rental growth of +6.4% and Yorkshire & the Humber experiencing growth of +4.9%.
Rightmove is reporting a "swing back to city life" as asking rents in city centres rise; eight out of 10 of some of the biggest city centres are asking higher rents than in June 2020.
The city with the biggest rental increases according to Zoopla was Nottingham, where rents rose by 7.9% to an average of £743 per calendar month in July 2021, compared with a national (excluding London) increase of 5% to an average of £790 per calendar month.
This meant rental increases for 79% of tenants in August, compared to 71% in July, the highest percentage on record, according to Propertymark. However, the data does not clarify if these are increases which follow rent reductions while tenants struggled during the pandemic. According to a report in Property Industry Eye, almost a third of landlords reduced their tenants' rent during the pandemic, to accommodate their financial difficulties brought about by redundancy, furlough and other job insecurities.
What does the surplus of renters mean for property developers?
The surplus of renters also creates favourite conditions for property developers, who should find demand high for any properties they build or renovate for the private rented sector.
Zoopla says delivery of build-to-rent homes is "on a strong upward trajectory, but this segment of the market is still small, and not enough to plug the gap of landlords who have already pared back their portfolios."
Property Road reports that 6,937 new build-to-rent homes were granted full planning permission in the first quarter of 2021, the highest amount in any quarter since the build to rent concept came to the UK in 2012. In London alone, there are 83,000 build-to-rent homes in the pipeline, according to Property Reporter, which highlights the growing sector as a great opportunity for investors. However, supply remains constrained at the moment and Zoopla says this will continue to drive demand and push rents upwards.
Renting vs buying: which is cheaper?
Rents are not the only prices which are being driven up and buyer demand is doing the same, as we reported in our blog recently. This means that, despite rising rents, it is now cheaper to rent than buy a home in most parts of Britain for the first time since 2014, according to This is Money. Its article states that in May 2021 tenants typically spent £71 a month less in rent than they would have spent on a 90% loan-to-value mortgage on the same property.
As well as these monthly outgoings, there are hefty initial costs when buying a home, the biggest being the deposit. According to the English Housing Survey, 2019 to 2020: home ownership, the median deposit was £23,000 for single purchasers and £25,000 for those buying jointly.
In addition there are one-off costs which are not part of the investment. Although first-time buyers pay no stamp duty on properties under £300,000, Zoopla reports that on top of the deposit, costs can add up to around £5,000, which includes conveyancing fees, the survey, valuation, mortgage fees and removals. Ongoing costs are higher, too, as a property owner will be responsible for their own maintenance, instead of this falling to the landlord.
Should landlords be targeting older tenants?
Renting is most common among younger age groups. The English Housing Survey, 2019 to 2020: private rented sector shows that almost a third (32%) of private renters are aged 25 to 34 years old. More than three quarters of this age group (77%) say they expect to buy a home in future, exceeded only by the 16-24-year-olds, 78% of whom plan to purchase a property at some point.
While adults of retirement age make up a much smaller proportion of private tenants – just 5% are aged 65 to 74 and 3% are 75 or over – this adds up to around 371,000 households (English Housing Survey) and is an area of growth, according to Property Reporter. It reports that the past year has seen a growing number of older adults sell their homes to cash in on a buoyant property market, then renting a property instead, either temporarily while they look for a smaller property, or long-term. This could therefore be seen as another area of growth, giving private landlords and developers the opportunity to buy, build and develop properties which appeal to an older demographic.
If you're looking to add to your rental portfolio or find your next property project, why not use our Property Finder? Or maybe you're a landlord exiting the market? If so, click here or call our friendly team on 0800 304 7879 for a free auction valuation.