12th August 2020
Properties shine in NG9 as SDL Auctions achieves 100% success in Beeston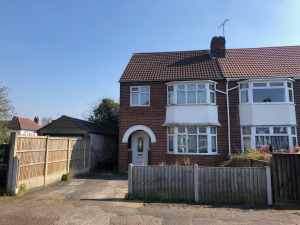 SDL Auctions has a 100% success rate in Beeston so far this year, with no sign of demand for properties in the NG9 postcode abating.
From the first Nottingham auction of the year in February through to last week's national property auction which was live-streamed from the head office auction studio, every Beeston property has proved a hit with bidders.
Nottingham valuer Laura Wiles said: "We are always delighted to get great results for our sellers but to achieve a 100% success rate is particularly rewarding. However, this should come as no surprise as Beeston is such an excellent location, both for homeowners and investors. 
"Its proximity to Nottingham city centre, with two universities, the Queen's Medical Centre and motorway links close by, make it ideal for commuters. This makes it the perfect spot for buy-to-let landlords to invest, as there is no shortage of demand for rental properties."
Among the most recent properties sold by SDL Auctions in in the NG9 postcode is 12 Lower Road in Beeston, a semi-detached house with potential for further development, subject to planning permission. The property, which has three bedrooms, two reception rooms and gardens front and rear, was entered into last week's national property auction with a *guide price of £175,000+ but sold prior to the auction.
Back in February, when auctions were still able to be held at Nottingham Racecourse before the coronavirus pandemic restricted such gatherings, several Beeston properties were sold, including 21 Warwick Avenue, a three bedroomed detached house in need of full refurbishment, which achieved £216,000 from a guide price of £156,000+ and 32 Ashfield Avenue, a semi-detached property requiring some updating, which sold for £181,000 from a guide price of £135,000+.
When auctions were taken behind closed doors and live-streamed from the head office studio, demand remained as high as ever. Over the course of several national property auctions – which have seen SDL Auctions become the UK's most successful live-streamed auctioneer** –  more and more Beeston properties have sold under the hammer.
Among the standout lots were 22 Derby Street, which sold for an impressive 88% above its guide price in the May national property auction. The three bedroomed semi, which required modernisation, sold for £166,000 from a guide price of £88,000+.
And in April, 1 Fellows Road sold for 74% above its guide price, netting £235,000 for its seller from a guide price of £135,000+. The extended three bedroomed semi-detached house required full refurbishment but, as Laura pointed out, this doesn't deter bidders.
"Refurbishment properties are always popular with our network of buyers, who appreciate the opportunity to add value to their investment before selling it on or renting it out. Our auctions are a great place to find such properties and it's always satisfying for us to see how a run-down home can be transformed into a comfortable home.
"These are just a few of the properties we have sold in the NG9 area during 2020, and illustrate that despite the challenges of operating during a pandemic, SDL Auctions can still get fantastic results."
SDL Auctions has now held seven lockdown auctions, which have been growing month on month. These national property auctions, coupled with daily single-lot online auctions, have seen the company raise more than £75m and sell more than 590 lots since the start of lockdown.
Laura said: "We are incredibly proud of the way our company and team have adapted to the 'new normal' and are delighted that we are still able to offer the same high level of service to our sellers. We're happy to have kept the property market moving in Nottingham throughout the lockdown period and our customers can be confident that we will continue to do so, no matter what the future holds."
National property auctions are held on the last Thursday of the month, with the next one taking place on 27th August. If you wish to sell a property before then, single-lot online auctions are held every day.
To find out more about selling a property with SDL Auctions, you can request a free, no-obligation auction valuation by calling the Nottingham team on 0115 958 8702 or clicking here.