30th November 2020
Promise of speedy sale makes auctions ever-popular in run-up to Christmas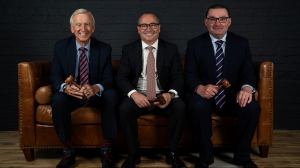 Lockdown proved no barrier to SDL Property Auctions achieving some outstanding results for sellers in November.
Spurred on by the guarantee of speedy transactions, buyers flocked to bid in both Auction Events and Timed Auctions during the month. And with Timed Auctions running every day, and a bumper day-long live-streamed Auction Event, there were plenty of opportunities for sellers to get a quick, concrete result for their properties.
Competition was fierce in last week's live-streamed Auction Event, with more than 100 bidders driving up the price of the first three lots so they exceeded all seller expectations and sold for considerably more than their *guide prices.
Featuring properties all over the country, November's National Property Auction began with several terraced properties in Derby, including two adjoining mid-terraced properties; 73 Richmond Road, which sold for £89,000 from a guide price of £45,000+ and 75 Richmond Road, which sold for £84,000 from a guide price of £45,000+. 
Managing director and auctioneer Andrew Parker said: "This was our penultimate Auction Event of the year but there were no signs of demand slowing down, and this type of property will always be popular, with the need for refurbishment providing the opportunity to add value and the style being ever sought-after on the rental market."
It was a similar story in a sought-after Northamptonshire village, where 3 The Peak in Nether Heyford was quickly snapped up by an enthusiastic bidder. The renovation project sold for £206,000 from a guide price of £175,000+.
Timed Auctions produced some outstanding results in November too, a prime example being 109 Lower Villiers Street in Blakenhall, Wolverhampton. Sold in partnership with Nick Tart Estate Agents in Tettenhall, the three bedroomed semi-detached refurbishment property attracted 125 bids from 10 different bidders, selling for £149,000 from a guide price of £76,000+.
And 48 North Parade in Grantham, a character terrace with scope for improvement sold in partnership with Newton Fallowell for £183,000 from a guide price of £146,000. Situated in the town's conservation area, the property retains many original features.
But it wasn't all residential properties requiring work; as ever, SDL Property Auctions provided a diverse range of lots to suit every type of buyer throughout the month in its National Property Auction and Timed Auctions.
One of the most high-profile and high-value commercial lots of the month was The George Centre in Grantham, a shopping centre comprising a part Grade II listed building with office space and the potential for residential conversion on the upper floors, subject to planning permission. After selling in the Auction Event for £1,010,000 from a guide price of £950,000+, the centre now looks to have new life breathed into it.
There is still time to secure a sale with SDL Property Auctions this year, either in its final Auction Event of the year on Friday 18th December or in one of its Timed Auctions which run every day of the year with bidding around the clock. Completion times in most cases are 20-40 working days which means sellers can complete and get the money before the end of January.
Andrew added: "With the continuing uncertainty triggered by the pandemic, auctions can provide the certainty that people need right now. Whichever auction method you choose, we can help you achieve a great result for your property and guarantee to beat the stamp duty holiday deadline."
For more information about which auction type is best suited to your property and circumstances, or to request a free, no-obligation auction valuation, click here or call 0800 046 5454.