13th July 2020
Problem tenants outstaying their welcome? Here's why now could be the best time to sell up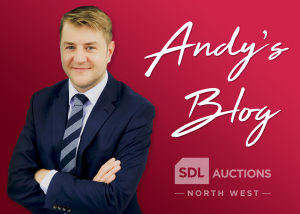 In the first in a new series of blogs highlighting property problems, Andy Thompson, head of Auctions North West at SDL Auctions, considers the impact of the evictions ban on landlords with difficult tenants.
There has been much attention given to tenants during the coronavirus pandemic, with the focus quite rightly being on keeping people in their homes.
Less attention has been given to the effect of this support for tenants on the landlords housing them.
Unfortunately for landlords, the current evictions ban – which has been extended until 23rd August – not only protects 'good' tenants who have been affected by the crisis but problem tenants who were already in arrears before lockdown began.
And it could take many months to take possession of your property because, even once the evictions ban is lifted, there will be a backlog of cases for courts to wade through. You could find yourself with a tenant living rent free in your property until next year, while you pay the mortgage, insurance and maintenance costs.
Many landlords tell me they simply plan to cut their losses. They can't face months of court proceedings while their property continues to drain their finances, so intend to sell up now and reinvest later.
It's a sound strategy as there will always be investors ready to take on a tenanted property – and, where the landlord/tenant relationship has broken down beyond repair, a change of hands can sometimes resolve the issue and get the rent flowing again.
A similar approach is also being taken by 'accidental landlords'. This may be a couple who moved in together but kept both properties and let one out. If their tenant is furloughed, they may be concerned about what happens once the furlough scheme ends. Will their tenant still have a job to return to? And, if not, what happens to their rental income?
I've had several accidental landlords in this situation talk to me about selling off their rental property now in preparation for an uncertain future. This will not only protect them from the possibility of future arrears but could also provide them with a financial buffer in case either of their jobs becomes at risk.
It does feel like we are currently in limbo, waiting with bated breath to see what happens to the economy in the next 12 months. And there's nothing the property market dislikes more than uncertainty.
Estate agents may be enjoying a post-lockdown flurry of activity at the moment but I wouldn't be surprised if many of these sales fall through, as banks down value properties to reflect the market. And industry experts including banks are already predicting property values will fall by anything between 3% and 10%, so it makes sense to try to pre-empt a possible crisis if you can.
One way to do this is to capitalise on the buoyant auction market over the next few months. If you have a tenant who was already giving you problems before the crisis began, or you are concerned they will be unable to pay their rent once the furlough scheme ends, you would be wise to consider selling now, then reinvest in the future, starting afresh with a clean slate.
If a property crash does come, all is not lost. One of the many benefits of auction is that we offer certainty and security in an uncertain market. Just as we have been throughout the pandemic so far, we will be in a position to offer a lifeline to investors, offering a clear way both in and out of the market.
If you are unsure about your property's future, do talk to us about your options. We can offer a free, no-obligation auction appraisal of your property. Just click here or call the team on 0161 774 7333.